200Gps per wavelength capabilities target bandwidth-intensive cloud scale applications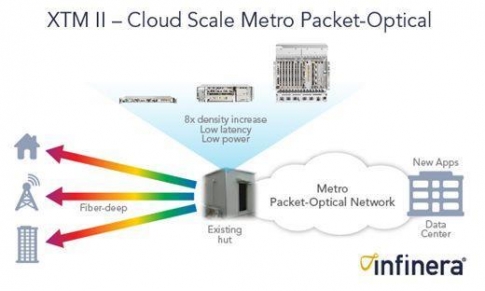 Network company Infinera has unveiled the XTM II, a next generation packet-optical platform delivering Layer 0, Layer 1 and Layer 2 services. t will be shown at the Next Generation Optical Networking (NGON) event held in Nice, France from June 20 to 22, 2017.
XTM II is designed for bandwidth-intensive cloud scale applications at the metro edge, such as Remote PHY, 5G transport and datacentre interconnect (DCI), that are deployable in facilities with restricted space and power.
The new platform is said to retain the flexibility and services of the XTM Series, but now adds 200Gps (200G) per wavelength capabilities, with an eightfold density increase and a reduction in power per gigabit of 3.5 times.
It also delivers what the company believes is the lowest power consumption in the industry for 100/200G transport, while retaining high density and low latency for demanding high-performance applications.
The new XTM II also features Infinera Instant Bandwidth, an open flexible grid line system and SDN control, to give network operators a flexible, open and software-programmable packet-optical solution for Layer 0, Layer 1 and Layer 2 services.
A key component of the XTM II platform is the new range of 200G per wavelength traffic units, featuring:
The 400G Flexponder: A dual, 200G muxponder that uses 16QAM (quadrature amplitude modulation) for high-capacity transport, or a dual 100G transponder that uses quadrature phase-shift keying (QPSK) for longer reach operation. This device provides 400G of line and client capacity per slot, giving an eightfold density increase over the previous generation. Including optics, the device operates at as low as 20 watts per 100G service, which the company believes is the lowest power consumption per 100G available in the industry on any wavelength-division multiplexing (WDM)-based platform.
The 200G Muxponder: A 200G Layer 1 muxponder that supports a broad range of client signals, including 10G/40G/100G Ethernet and Optical Transport Network (OTN) as well as 8/16/32G Fibre Channel. The device can also be paired to create an OTN add-drop multiplexer (ADM).
The EMXP440 Packet-Optical Transport Switch: A high-capacity addition to the existing range of EMXP devices that provides Layer 2 packet-optical switching with dual 100/200G ports and 12 or 24 10G ports. The EMXP440 supports Carrier Ethernet (CE) and MPLS-TP, packet transport with sub-50 milliseconds protection, Metro Ethernet Forum (MEF) CE 2.0 service creation and quality of service-aware traffic aggregation. In addition, the EMXP440 has feature-harmonization with the EMXP/IIe range and PT-Fabric.
"Service providers are moving packet intelligence closer to the edge of the transport network to support high-capacity and low-latency applications like the Remote PHY requirements of Cable MSOs," said Andrew Schmitt, founder and lead analyst at Cignal AI. "The Infinera XTM II supports metro packet-optical applications with WDM uplink speeds up to 200G, while maintaining support for the installed base and the wider XTM Series."
"While backward compatibility is key as it allows current customers to take advantage of over 30,000 existing XTM Series chassis, what is more significant are the capabilities XTM II brings to new networks deployed by both new and existing customers," said Karl ThedÄen, Infinera senior VP, head of Metro Business Group. "With XTM II, our customers can build groundbreaking networks with incredible capacity and high performance at Layer 0, Layer 1 and Layer 2 without limitations. Using features such as Instant Bandwidth, DNA management and Xceed SDN control, along with seamless DTN-X long-haul solutions compatibility, we are helping our customers build unified end-to-end networks."