TAIPEI, Taiwan — President Tsai Ing-wen said Thursday the government planned to improve water and electricity conditions to meet the needs of the semiconductor industry through its Forward-looking Infrastructure Development Program.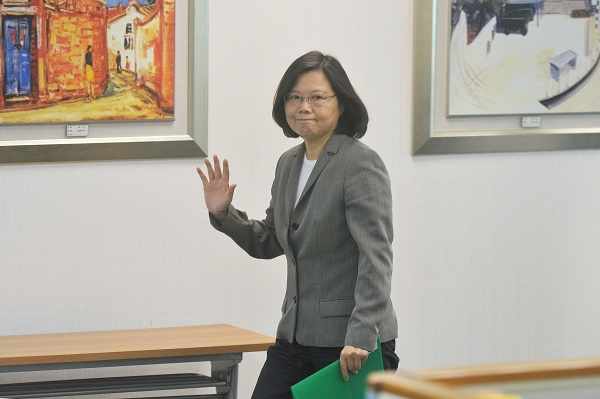 Tsai made the statement during a meeting with Sanjay Mehrotra, the newly appointed president and CEO of Micron Technology. She also vowed to devote as much effort as possible to help Micron expand its operations in Taiwan.
Taiwan is the first stop in Mehrotra's global tour of Micron's manufacturing sites and comes just over a month since he assumed leadership at the Idaho-based firm.
Tsai said Mehrotra has extensive industry experience and that he recognized the key advantages Taiwan's talent and firms possessed in the global supply chain. Choosing Taiwan as the Micron's main research and production base, as well as a hub for leading-edge dynamic random access memory (DRAM) development, would create a win-win situation for both Micron and Taiwan, she added.
Citing an article in The Economist, Tsai said foreign investors had been optimistic about Taiwan in the past year, as demonstrated by the rapid increase of foreign direct investments in the country's electronics sector.
A major reason for the bolstered confidence in the Taiwan market was the government's clear policy direction, Tsai said.
The government had been pushing with exceptional determination for structural market reforms to encourage innovation, loosen regulations and enhance the bonds between Taiwan and countries in the Asia Pacific, she said.
For Micron, Mehrotra said, Taiwan was a key component of the firm's future plans.
"Memory is fast becoming the strategic differentiator for powering next-generation computing applications, and our operations in Taiwan are critical to supporting this evolution,"he said.
"We will continue to invest in advanced technology for our front-end fabrication facilities in Taiwan, as well as create a new back-end fab in Taichung later this year."
Upon acquiring local memory manufacturer Inotera Memories in late December, Micron became the largest foreign investor and employer in Taiwan.
Critics have called the government's eight-year NT$880 billion infrastructure plan "ill-conceived" and "a collection of thoughtless construction projects," which would do little to rejuvenate the economy and provide jobs. In response Thursday, Tsai emphasized that the investment was aimed at long-term development and may not offer immediate benefits.