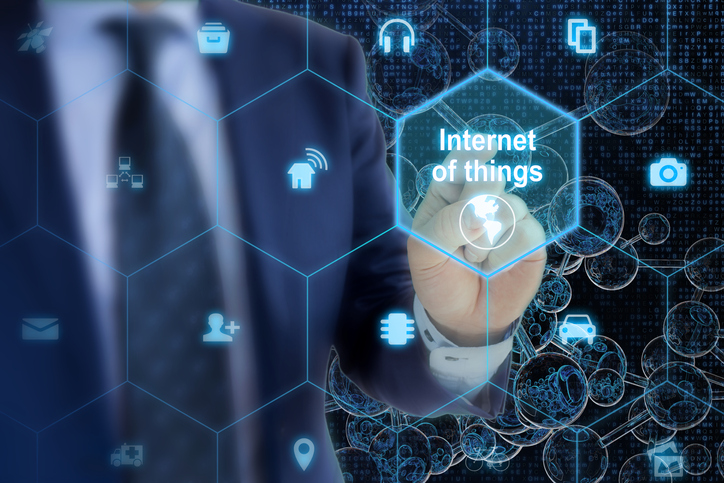 Semiconductors are the foundation of all electronic devices we use on a regular basis. We have a clock and a microwave to help us get our work done. The day begins with a call to the mobile phone and a laptop, that make our workday possible—much of what we do rely on is fuelled by a semiconductor. Apart from the presence of semiconductors in our lives, new skills and strategies are expected of leaders to help them expand their businesses in ingenious approaches.
Increasing emphasis on managing connected devices and rising efficiency of operations is expected to augment the market growth. Key players prevailing in the IoT industry are focusing on several initiatives, like the formation of OMA (Open Mobile Alliance), for standardizing frameworks. This has enhanced the growth of the segment. The need for real-time analytics, security of machines, and connected assets has resulted in the adoption of IoT device management. It aids in control and configuration, authentication, maintenance and software updates, and monitoring of connected gadgets.
The rising adoption of IoT (Internet-of-Things) semiconductors for several protocols has led to robust demand in the market. The continuous development in technology and the rising need for effective and efficient management of connected gadgets has resulted in the development of solutions like real-time solutions, data management solutions, and security analytics.
To begin with, with the rapid speed of IoT growth, semiconductor companies will benefit from newer developments in the technology value chain. They will gain popularity by offering integrated solutions that include hardware design, software, and systems integration for products and applications in addition to semiconductor solutions. Sensors, wearables, and networking technologies are becoming more digital, increasing demand for semiconductors.
In the IoT age, as the cloud economy becomes more commonplace, semiconductor companies must continue to innovate in order to accelerate communication across the IoT value chain. Chips with an ultra-small form factor, low power consumption, and wireless networking options will also be needed for IoT-connected products and applications. The semiconductor industry is driving MEMS/NEMS sensor platforms with the power advantages of lower technology nodes and increased flexibility on a single small form-factor die as the popularity of IoT sensor products such as smart watches and glasses, as well as smartphones and other wearable devices, grows.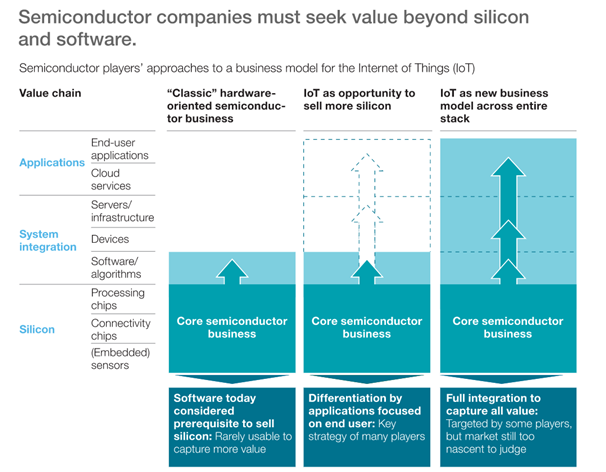 2021: An Opportunistic Year for IoT Semiconductors Market
The number of active IoT interface connections has risen significantly from 3.6 billion in 2015 to 11.7 billion in 2020. The number of IoT connections could exceed 30 billion by the end of 2025, according to the forecast. The Internet of Things semiconductor industry is booming, and it has an impact on a variety of sectors, including industrial, automotive, energy and infrastructure, and healthcare.
Semiconductor companies may decide to pursue new approaches more aggressively as the IoT market matures and grows in size. They should first figure out which verticals and technologies are gaining traction and when their markets will be wide enough to warrant substantial investment before going forward.
Start-ups can create some of the most creative IoT applications, as well as those that are most likely to stimulate customer demand. Businesses outside of the technology industry, such as supermarkets, insurers, and oil and gas firms, may also develop interesting products that appeal to a large consumer base. If semiconductor companies pursue new strategies to help these companies prosper, they may be able to indirectly boost demand for IoT products. Start-ups and nontechnical companies, for example, can benefit from easy solutions and more hands-on support, such as guidance from dedicated field engineers who assist with board-level design and solution integration (from silicon through applications in the cloud). One-stop solutions—complete platforms that include all relevant elements that an IoT system requires, such as networking, sensors, memory, microprocessors, and software—might also be preferred by IoT customers. These platforms could be the only economically viable choice for certain small businesses with limited funds.
Investment by the Asia Pacific
Due to the pandemic that struck major economies in Asia-Pacific in 2020, investment growth slowed to 7.1 percent (YoY), down from 12.5 percent expected prior to Covid-19.
Personal and consumer facilities, transportation, and discrete industrial tools (all of which were significantly impacted by the pandemic) saw decreased IoT expenditures, which corresponded to a decline in overall IT spending.
With the recovery of economic activity in the region as a result of improved pandemic control, these industries' spending is expected to rebound in 2021 and achieve double-digit growth in the forecast period to 2025.
Enabling Technologies for COVID-19 During and After
Many of the latest applications would use image sensors as their eyes in terms of sensing. LiDAR, ultrasound, and radar, in addition to image sensors, assist in-depth vision, collision avoidance, and object recognition. People have historically used image sensors to capture information, but machines are increasingly using image sensor data without the need for a human in the loop. This will allow a variety of post-COVID-19 applications, including touch-free building access through facial recognition technologies, as well as automated services including handwashing and sterilisation gel dispensing.
The quality of data that smart devices can provide would have a big impact on their ability to understand their surroundings. Sensors like the AR0237IR can capture both visible and infrared images while maintaining high sensitivity even in low light. This has many advantages, including a shorter time to actionable data and less reliance on a high-bandwidth link to a cloud service.
Processing data at the edge is unquestionably more than a passing fad; it will, to borrow an expression, become the "latest standard." The RSL10 System-on-Chip with integrated Bluetooth Low Energy networking is one example of how ON Semiconductor is enabling this. This tiny device can perform the majority of the functions needed by a smart sensor node, including communication with the rest of the Internet of Things.
Major highlights of the market:
NXP Semiconductors N.V., Samsung Electronics Co., Ltd., Intel Corporation, Qualcomm Incorporated, Texas Instruments Incorporated, Microchip Technology Inc., STMicroelectronics N.V., Cypress Semiconductor Corporation, NVIDIA Corporation, and Huawei Technologies Co., Ltd. are some of the major players in the sector.
Rivet Networks LLC purchased Intel Corporation in May 2020. Intel's Wi-Fi services will be improved as a result of this purchase.
Developing the end market by customer demand
A single breakthrough application or use case—a so-called killer app—has also sparked exponential demand in other technology sectors. Such was the case in 2007, when the iPhone's launch sparked substantial growth in the smartphone industry. While the Internet of Things could theoretically follow this direction, most of our interviewees believed that rather than a single killer app, development would come from a series of appealing yet limited opportunities that shared a common platform.
Start-ups can develop some of the most creative IoT applications, as well as those that are most likely to stimulate customer demand. Businesses outside of the technology industry, such as supermarkets, insurers, and oil and gas firms, may also develop interesting products that appeal to a broad consumer base, but some of our interviewees believe these businesses may face significant challenges. If semiconductor companies pursue new strategies to help these companies prosper, they may be able to indirectly boost demand for IoT products.
Semiconductor companies are well aware that their chips only make up a small part of the IoT value chain, so they're looking at opportunities in apps, cloud computing, and other services. However, more aggressive methods, such as a transition to new business models, may be needed to increase the value captured. For instance, a shift to usage-based pricing will enable semiconductor players to collect revenue for the entire lifespan of a product or service, not just at the time of chip purchase. (This may only be feasible if a semiconductor company is able to provide the complete system or partner with a system-level player.)
New solutions, on the other hand, should be cautiously tested to minimise risks and avoid straying too far from their core competencies. The fact that the Internet of Things has so many niches will aid in the evaluation process because businesses can test solutions in one of them and make appropriate changes before moving forward with a larger implementation.