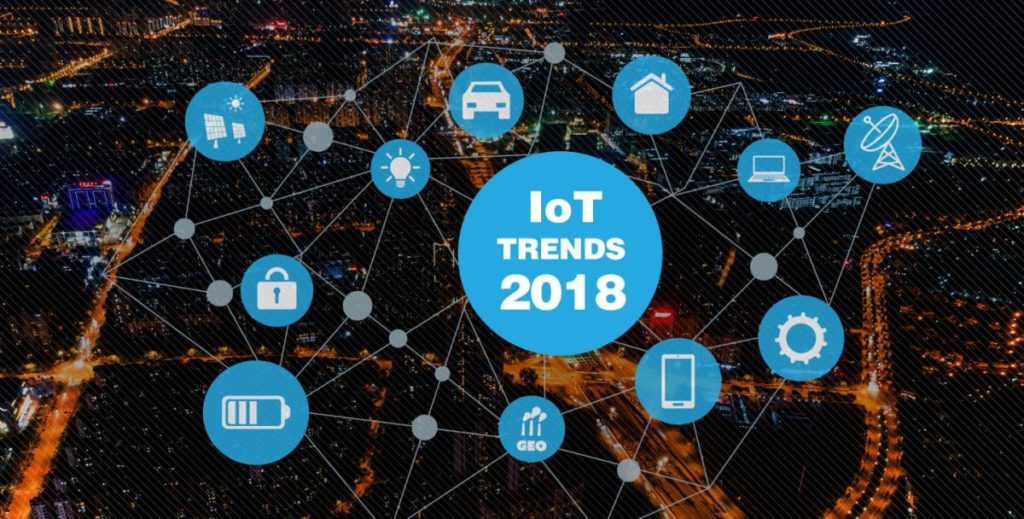 Many technology trends of 2017 would begin to take greater shape in 2018, which also includes Internet of Things (IoT). With IoT products gaining momentum in the market, including home thermostats, door locks controlled from smartphones, smart meters, etc. Industries are investing in implementing IoT solutions which will impact their bottom line. The IoT marketplaces are like gateways that offer companies the option to connect and interact with a wide range of vendors, without having to create or change existing platforms.
Today, most major enterprises have already integrated IoT into their core systems and initiatives to drive digital businesses. We will continue to see connectivity become part of the enterprise IT fabric – in fact, within five years; IoT will be core to millions of business processes. In the future, companies may even take for granted that devices and appliances like vehicles and HVAC systems can be controlled and monitored remotely, mostly thanks to IoT connectivity.
As we rely on connected devices to make our lives better and easier in 2018, security would play a major role. IoT security requires a multi-layered approach where all participants in the IoT ecosystem are responsible for the security of the devices, data and solutions. This means that device manufacturers, application developers, consumers, operators, integrators and enterprise businesses should all follow best practices. We will see investments going into the IoT security sector in 2018.
The amount of data produced by the usage of IoT will force data to the edge; it will also force mobile providers to move faster than ever — toward 5G. The level of hyper-connectivity expected by users today leaves little room not to move forward on the 5G path, but one should not get too excited and the move to 5G won't happen overnight, and it will likelyerratic throughout the coming year.
Another sector that will change rapidly in 2018 is automotive, especially fleet management. The connected automotive sector is a growing sector in India and expected to grow exponentially in the coming years. Usage of IoT within truck, car rental and other companies would see exponential usage of IoT in 2018. The usage of Cellular technologies would increase at a tremendous pace in 2018. This in-turn would have a knock down effect on the consumer care segment as well where security based IoT technologies would play a key role.
In 2018 companies would spend a substantial amount on IoT technologies. This would mostly be led by the government sector followed by the private sector in most of the countries. Business Insider research predicts business spending on IoT solutions will hit $6 trillion by 2021. This would see venture capitalists pouring money into the IoT sector where the majority of the funding would go to start ups which are using or developing IoT technologies.
IoT will be seen as a driver of improvements across businesses — organizations are already using IoT to reduce risk, cut costs, create new revenue streams, improve employee productivity, and enhance customer experience. Businesses are likely to see even more benefits as they implement the technology across operations.
Another uptake that we will see in 2018 is the IIoT (Industrial Internet of Things). The IIoT is part of a larger concept known as the Internet of Things (IoT). The application of the IoT to the manufacturing industry is called the IIoT (or Industrial Internet or Industry 4.0). The IIoT will revolutionize manufacturing by enabling the acquisition and accessibility of far greater amounts of data, at far greater speeds, and far more efficiently than before. A number of innovative companies have started to implement the IIoT by leveraging intelligent, connected devices in their factories.
The IIoT can greatly improve connectivity, efficiency, scalability, time savings, and cost savings for industrial organizations. Companies are already benefitting from the IIoT through cost savings due to predictive maintenance, improved safety, and other operational efficiencies. IIoT networks of intelligent devices allow industrial organizations to break open data silos and connect all of their people, data, and processes from the factory floor to the executive offices. Business leaders can use IIoT data to get a full and accurate view of how their enterprise is doing, which will help them make better decisions.