Epiwafer foundry and substrate maker IQE plc of Cardiff, Wales, UK is hosting the 2017 Raytheon Supplier EPIC Award ceremony in one of its US facilities, in Taunton, MA.
As part of the Raytheon Supplier Excellence Program, suppliers are awarded for their outstanding performance, contributions and support to programs across one or more Raytheon businesses. IQE was selected to receive an EPIC Award for its overall Excellence in Performance, Innovation & Collaboration.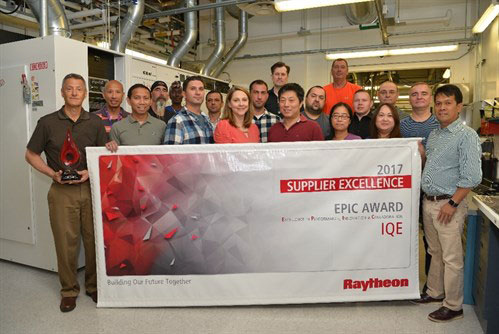 The ceremony is being attended by Raytheon representatives, as well as Taunton mayor Thomas C. Hoye Jr, Massachusetts senator Marc R. Pacheco and Massachusetts representative Shaunna L. O'Connell.
"Your commitment to excellence is greatly appreciated," comments M. David Wilkins, VP for contracts & supply chain at Raytheon Company. "It enables our joint success and solidifies a platform for 'Building our Future Together' in support of our mutual customer, the US Warfighter," he adds.
"It is a great honor to receive the 2017 Raytheon Supplier EPIC Award, which recognizes the integrity, quality and expertise that IQE offers its customers," says Dr Wayne Johnson, VP of IQE's Power business unit.