Focus on automotive semiconductor solutions & international sales channels
Manchester, UK – 15 April 2021 – Elmos Semiconductor SE and Rutronik Elektronische Bauelemente GmbH have agreed on a cooperation for the distribution of semiconductor solutions. The partnership opens up new potentials for both partners and strengthens their respective, worldwide market position. The franchise applies to Europe including Russia and Turkey as well as Africa, and in the next step, from June 2021 on, also to North, Central and South America.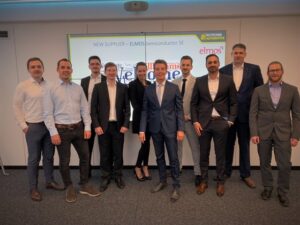 The dynamic automotive market relies on innovative solutions that enable the increasingly complex systems to function efficiently and reliably. With ASSPs (application-specific standard products) Elmos is already the worldwide no. 1 in growth segments of automotive electronics, for example in ultrasonic distance measurement, gesture control and ambient lighting in the vehicle interior.
Rutronik's very good sales network and comprehensive expertise in automotive electronics form a promising starting point for the acquisition of new projects. The use of ASSPs with a large number of functions on just one chip also offers promising market opportunities in applications.
"Elmos offers numerous innovative products in the areas of driver assistance and safety systems, comfort electronics, infotainment and LED lighting systems. Rutronik has a unique combination of expert knowledge, networks and worldwide distribution. This makes the automotive business unit the ideal partner for us," says Dr. Jan Dienstuhl, board member for sales and development at Elmos Semiconductor SE.
"Together with Elmos as our new franchise partner, we will master upcoming challenges of the mobility market with state-of-the-art products and solutions. The cooperation enables us to offer our customers economically interesting components which are nevertheless developed according to their individual needs", says Uwe Rahn, Director Automotive Business Unit (ABU) at Rutronik, pleased. "The ABU is deliberately focusing on strategically important innovation topics in the industry. The best-of-class products are available to our customers via specially selected component manufacturers."