Laser diode is a semiconductor device which is similar to a light emitting diode (LED) as it directly converts electrical energy to light energy.  Laser diode produces consistent light.  This coherent light is formed by the laser diode using a method termed as "Light Amplification by Stimulated Emission of Radiation", which is abbreviated as Laser. Laser diode tends to be brighter and more focused than LEDs but both are pin diodes.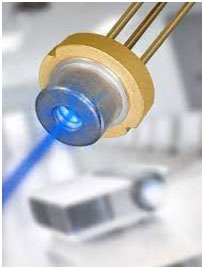 Light travels in waves with the wavelength measured from one peak two the next every color of light has a different wavelength; reds have a longer wavelength while blues and purples have shorter wavelengths. With laser light the waves travel together with their peaks all lined upon in phase this coherence combined with the ray collimation are why laser beams are very narrow very bright and can be focused into a very tiny spot. With lasers the beam color is determined by the semiconductor material use to make the diode. Laser diodes can be found in wavelengths below 400nanometers in the ultraviolet range up to the visible spectrum and continuing above 700 nanometers into infrared wavelengths. Because laser beams are so focused they can travel very long distances and remain concentrated on a very small area. Lasers being this powerful can be extremely useful but also dangerous. Lasers can be powerful enough to cause serious eye injury. Laser diodes are fairly sensitive devices so while they can be found as a standalone component. They are most frequently used in combination with laser drivers and built into modules.
Characteristics of laser diode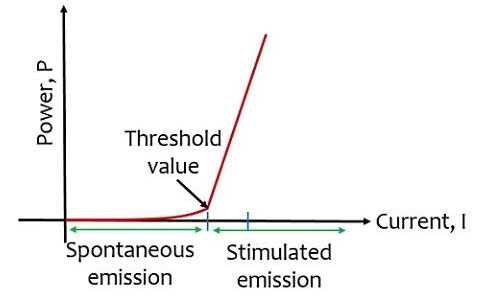 The above graph shows the characteristics of laser diode. The horizontal line of graph denotes current and vertical line in graph shows the optical power of light produced by laser diode. It can be clearly seen from the figure that a gradual increase in power is noticed until a threshold point is reached.
After the threshold value, there is a rapid increase in power even for a small increase in the current. The power produced by the laser diode is also depends on the temperature associated with the device.