LM258 is a dual operational amplifier integrated circuit that operates in a single power supply on different voltage ranges.
The LM stands for linear monolithic, this IC is a member of the LMxx family.
LM258 is high gain and internally frequency compensated op-amp.
It is specifically designed to operate from a single power supply over a wide range of voltage.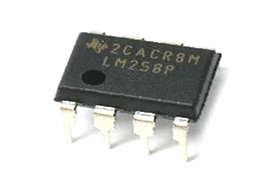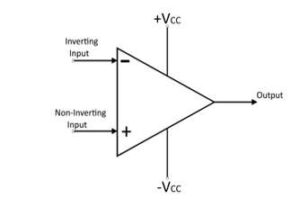 Working of LM258 Op Amp

Input Stage: It is the dual input, balanced output differential amplifier. The input stage provides most of the voltage gain and introduces the input resistance of the operational amplifier. The non-inverting and inverting input is connected with the input stage.
Intermediate Stage : This stage is also a dual i/p, balanced o/p differential amplifier, which is driven by the output of the first stage.
Level Shifting Stage :The level shifting transistor circuit is used after the intermediate stage to shift the DC level at the intermediate stage output down to zero volts concerning ground.
Output Stage :The output stage is a push-pull complementary amplifier. It increases the output voltage. It also provides low output resistance.
Pin configuration

| Pins | Description |
| --- | --- |
| Pin 1(OUT1) | This is the o/p pin of the first operational amplifier |
| Pin2 (1IN-) | This is the first op-amp's inverting input |
| Pin3 (1IN+) | This is the first op-amp's non-inverting input |
| Pin4 (GND) | Ground pin |
| Pin5 (2IN+) | This is the second op-amp's noninverting input |
| Pin6 (2IN-) | This is the second op-amp's inverting input |
| Pin7 (2OUT) | This is the second op-amp's o/p pin |
| Pin8 (VCC) | This is the power supply pin |
Application of LM258 Op Amp
It is used in voltage followers, Inverting amplifier, non-inverting amplifier.
It is used in Summing Amplifier, Current to Voltage Converter, Voltage to Current Converter, Differential Amplifier, Integrator and Differentiator, Instrumentation Amplifier, Log Amplifier, Antilog or Exponential Amplifier, Precision Diode, HWR, and FWR, etc.