Luxeon 2835E 3V LED achieves up to 170 lm/W and meets DLC Premium V4.1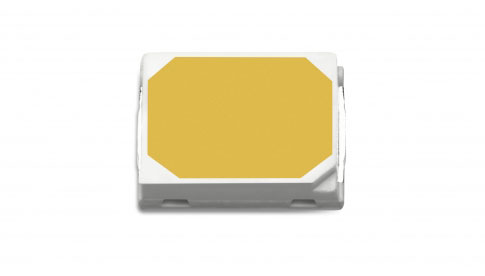 Lumileds has added the 2.8 x 3.5 mm 2835E 3V to the Luxeon 2835 Line, a package footprint that first gained traction in television backlighting.
Now this size is proving convenient in general lighting applications including downlights, indoor area lighting such as TLEDs and troffers and lamps like B12 and A19 bulbs.
The new LED is claimed to raise the standard for this class of product with efficacy up to 170 lm/W. It also meets the DesignLights Consortium (DLC) Premium V4.1 requirements, giving customers access to maximum energy savings, the highest utility rebates and EnergyStar certification, according to Lumileds..
"Because of the cost sensitivity of this market, other manufacturers have turned to lower cost materials and practices that frankly have impacted long-term reliability," said Yan Chai, product line director at Lumileds.
"Lumileds has maintained its commitment to the highest quality materials including proprietary phosphors, all gold wire bonding, and the tightest process control to deliver the best performance and lumen maintenance."
The Luxeon 2835 Line is comprised of Luxeon 2835C for higher output and Luxeon 2835E for lower output ranges. Luxeon 2835E is available in a wide range of color temperatures of 2700K to 6500K with a minimum CRI of 80. At the nominal drive current of 60 mA, the Luxeon 2835E can achieve very high efficacy of 170 lm/W and produces 30 lumens at 4000K and 80 CRI at 60mA.
Alternatively, it can be driven at up to 150 mA to produce > 60 lumens (4000K and 80 CRI). In addition to this new 3V version, the Luxeon 2835E is offered in 6V and 9V versions for entry level A19 bulbs. Like other products in Lumileds mid power family, the 6V and 9V Luxeon 2835E LEDs are hot-colour targeted to ensure accurate colour representation at application conditions.