South Korean technology giant posts strong earnings despite chief's arrest
KENICHI YAMADA, Nikkei staff writer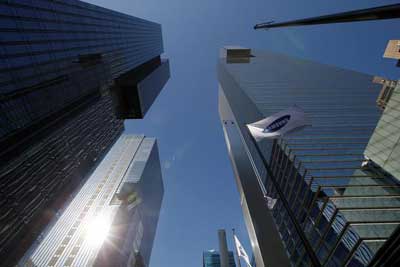 TOKYO — Even as the Note 7 smartphone fiasco and the arrest of top executive Lee Jae-yong loom over Samsung Electronics, the South Korean technology group has turned in its second-highest quarterly operating profit on the back of hot-selling memory chips.
The consolidated figure climbed 48% on the year to 9.9 trillion won ($8.72 billion) for the three months ended in March, preliminary data released Friday shows. Its operating profit is about two and a half times that of Taiwan Semiconductor Manufacturing Co. (TSMC), the world's largest contract chip maker, but only about a third that of Apple, when compared with their October to December results.
Segment earnings are unconfirmed at this point since they will be released in late April with final numbers. Nomura Securities estimates that the semiconductor business generated 6.16 trillion won in operating profit for the quarter, more than double the 2.63 trillion won raked in a year earlier.
Nomura's estimate also outpaces the 4.95 trillion won gained by the segment in October-December, and those first-quarter earnings could reach a record. Multiple South Korean analysts predict the semiconductor business will continue growing this quarter and onward, with operating profit in the neighborhood of 7 trillion won or 8 trillion won in the third quarter.
Cycle or 'supercycle'?
This success owes to the brisk demand for semiconductors. The global market will rise to a record $346.1 billion this year, according to an outlook by World Semiconductor Trade Statistics.
But the chips market is highly volatile due to the so-called silicon demand cycle, which is seen switching between  boom and bust every four years. The current upswing began around the end of 2012, though a Samsung executive thinks the gains will "likely continue until 2018."
Experts say the market has entered a "supercycle" distinguished by long-term growth in demand. On top of an expanding market for chips found in smartphones and data centers, new target areas are being created by the "internet of things" and similar applications. The perception of tight supplies also gives a leg up to prices.
Prices for DRAM and NAND memory chips started climbing around last summer. DRAMs are hovering at heights not seen in roughly one and a half years, while NANDs are enjoying three-year highs. Samsung controls the biggest global slice for both types, letting the company reap the benefits.