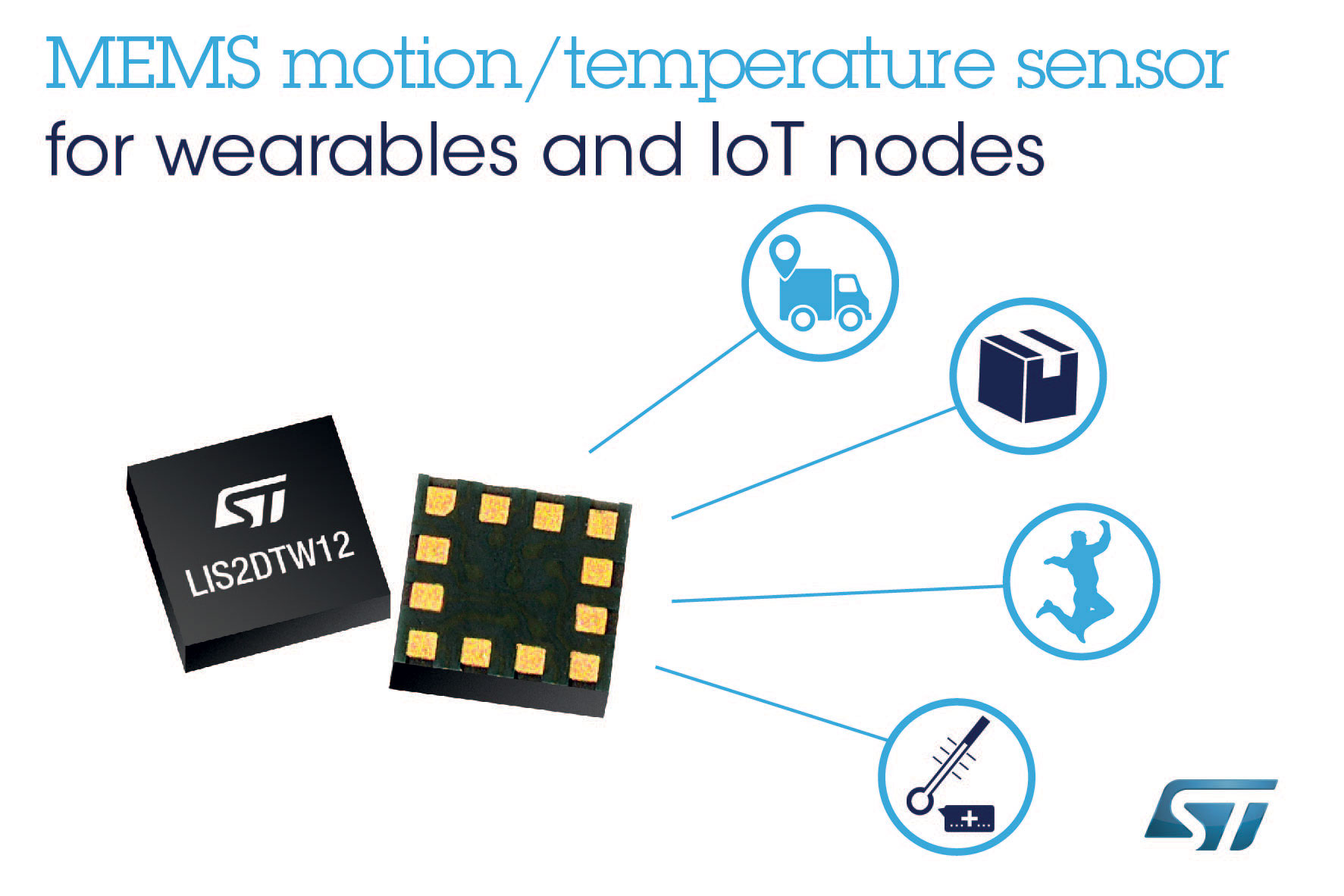 24 April 2019 : The STMicroelectronics LIS2DTW12 combines a MEMS 3-axis accelerometer and a temperature sensor on a single die for use in space-constrained and battery-sensitive detectors such as shipping trackers, wearables, and IoT endpoints. The sensing accuracy of 0.8°C offers precision comparable with stand-alone standard temperature sensors.
In addition to enhanced temperature compensation, leveraging the sensor's superior accuracy, the accelerometer benefits from unprecedented flexibility with 65 different user modes that enable developers to optimize power consumption and noise to meet application-specific requirements. It has user-selectable full-scale range up to ±16g and measures acceleration with output data rates from 1.6Hz to 1600Hz.
With about 30% lower package height than other combination sensors, at just 0.7mm, the LIS2DTW12 allows extra battery capacity for longer runtimes. Power-saving features let devices go even further between charges, and include a 50nA power-down mode, multiple operating modes down to less than 1µA, a dedicated internal engine for processing accelerometer signals, and a large 32-level FIFO to reduce intervention from the main controller.
The LIS2DTW12 provides 16-bit accelerometer data and 12-bit temperature data through a high-speed I2C/SPI port, and allows single data conversion on demand. The motion engine performs free-fall and wakeup detection, single/double-tap recognition, activity/inactivity, stationary/motion detection, portrait/landscape detection, and 6D/4D orientation. ST's advanced self-test capability is also built-in to verify the sensor is functioning correctly.
The LIS2DTW12 is specified from -40°C to +85°C and available now in the ultra-thin 2.0mm x 2.0mm x 0.7mm LGA-12 plastic land grid array package, priced from $0.99 for orders of 1000 pieces.
A dedicated adapter board, STEVAL-MKI190V1, is ready to use with the STEVAL-MKI109V3 microcontroller motherboard to connect to a PC running the Unico development GUI or a custom application for inspecting the sensor data.
For more information please go to www.st.com/lis2dtw12-pr
You can also read our blog post at https://blog.st.com/lis2dtw12-accelerometer-thermometer/