The global metal-organic chemical vapor deposition (MOCVD) market is increasing at a compound annual growth rate (CAGR) of about 14% over 2017-2021, rising from $614.8m in 2016 to $1162.8m in 2021, according to a report by Technavio.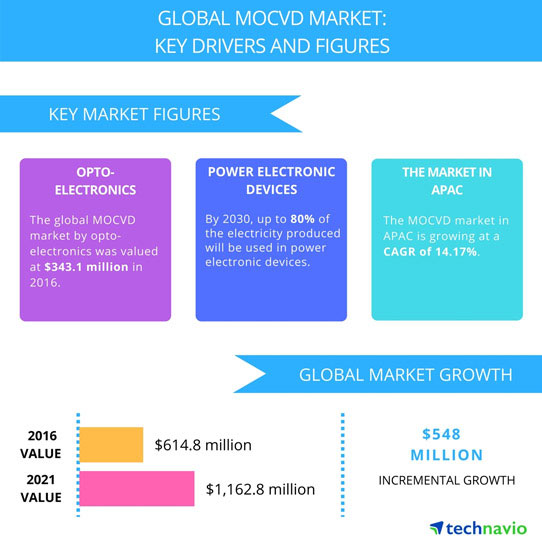 Since MOCVD is used to produce high-brightness LEDs, it is expected that the increasing demand for high-brightness LEDs will fuel growth. "There are different factors driving the global MOCVD market growth, of which the increasing demand for high-brightness LEDs in the global LED lighting market is the major one," says Sunil Kumar Singh, a lead analyst specializing in research on semiconductor equipment sector. "The rapid decline in the average selling price (ASP) of LEDs has led to an increase in the adoption of LEDs for lighting applications."
Furthermore, the increasing demand for renewable sources of energy such as solar energy is another major driver. Semiconductor manufacturers are using MOCVD to manufacture high-efficiency triple-junction photovoltaic cells that can maximize the efficiency of photovoltaic cells in converting sunlight to electricity.
According to Technavio, the top three emerging trends driving the MOCVD market are as follows.
The need for energy conservation
Vendors offer various power electronic devices for a range of applications, with the main focus being energy conservation. Many vendors are engrossed in increasing power density, affecting the cost of power electronic devices and associated applications. The cost is expected to increase during the forecast period.
"The increase in power density leads to an increase in the power efficiency of the devices, thus helping end-users conserve energy," says Sunil. "Depletion and rising cost of fossil fuels make energy conservation a requirement and a trend that can trigger the market growth over the next few years."
Emergence of high-powered electronic devices
Consumers of electronic devices have high expectations, wanting products that are fast, innovative, lightweight, energy-efficient, and small. For silicon, all these demands are tough to achieve without compromising on performance. It has already reached its saturation stage, says Technavio.
Gallium nitride (GaN)-based devices have opened up new opportunities for users and vendors alike. For users, GaN offers high-powered electronics that are mobile, prompt, energy-efficient, and save on time.
Increasing MOCVD equipment utilization rates in APAC
Increasing lighting demands and the subsidies offered by local governments on MOCVD equipment in the Asia Pacific (APAC), particularly in China, present strong growth potential for the global MOCVD equipment market. The increasing demand for LED-based components and accessories such as LED-based displays, along with the increasing demand for LEDs in the general lighting segment, has increased the MOCVD equipment utilization rate in APAC.
For instance, Chinese LED makers such as Tsinghua Tongfan, HC SemiTek, Hangzhou Silan Azure Technology, and Zhongke Semiconductor Lighting have production capacity expansion plans in the country by 2020.