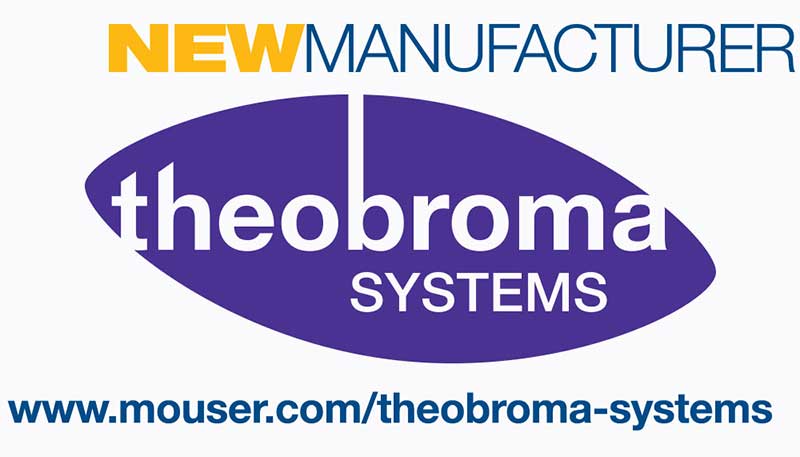 Distributor Now Stocking Rockchip-based RK3399-Q7 Module
August 7, 2019 – Mouser Electronics, Inc., the industry's leading New Product Introduction (NPI) distributor with the widest selection of semiconductors and electronic components, announces a global distribution agreement with Theobroma Systems, an Austrian company providing embedded engineering services and module devices that incorporate embedded systems. Through the agreement, Mouser is now offering the RK3399-Q7 system-on-module (SoM), the industry's first Qseven module featuring the high-performance Arm® Cortex®-A72 cores.
Theobroma Systems' flagship product, the RK3399-Q7 SoM, combines best-in-class performance with a rich set of peripherals in a standard 70 mm × 70 mm Qseven form factor. Based on a big.LITTLE architecture, the RK3399-Q7 integrates two high-performance Arm Cortex-A72 cores, four low-power Arm Cortex-A53 cores, and an Arm Mali-T860 MP4 graphics processor with 4K output capabilities. The RK3399-Q7 SoM is available in both industrial and commercial temperature grades.
The RK3399-Q7 SoM — fully designed, produced and supported in Vienna, Austria — features high-performance embedded peripherals, advanced hardware security, and fast processing with support for Linux and Android operating systems. The SoM supports a wide range of applications, including connected industrial devices, visual computing, image analytics, robotics, digital signage, smart home automation, and artificial intelligence (AI), human machine interfaces (HMIs) and other Internet of Things (IoT) and Industry 4.0-related applications.
Mouser is also stocking Theobroma Systems' EVK-RK3399-Q7 development kit. The compact Mini-ITX baseboard includes a pre-installed RK3399-Q7 SoM, plus a host of peripherals and interfaces, including HDMI, USB, and PCIe. After connecting a monitor, keyboard, and mouse, engineers can immediately begin prototyping applications.
To learn more about Theobroma Systems' products available from Mouser, visit www.mouser.com/theobroma-systems.
With its broad product line and unsurpassed customer service, Mouser strives to empower innovation among design engineers and buyers by delivering advanced technologies. Mouser stocks the world's widest selection of the latest semiconductors and electronic components for the newest design projects. Mouser Electronics' website is continually updated and offers advanced search methods to help customers quickly locate inventory. Mouser.com also houses data sheets, supplier-specific reference designs, application notes, technical design information, and engineering tools.