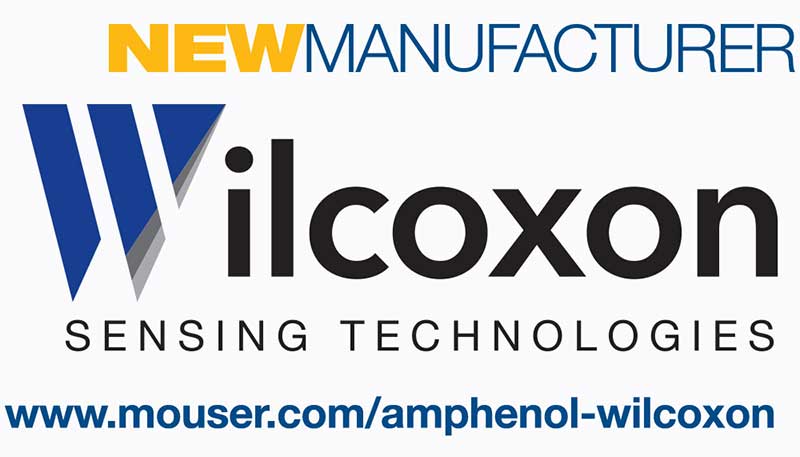 July 24, 2019 – Mouser Electronics, Inc., the New Product Introduction (NPI) leader empowering innovation, has announced a global distribution agreement with Wilcoxon Sensing Technologies, an Amphenol company, to distribute its brand of Wilcoxon Sensing Technologies vibration monitoring products and sensing solutions. A trusted brand since the 1960s, Wilcoxon has a strong legacy of success in vibration monitoring. Companies and organizations across many industries depend on Wilcoxon to meet their application requirements for the highest quality, reliability, and best value in vibration monitoring products.
"Wilcoxon Sensing Technologies is excited to extend its market reach through Mouser Electronics," said Dr. Christopher McLean, general manager of Amphenol Piezo Technology Products overseeing Wilcoxon Sensing Technologies. "Mouser will play a valuable role in our global distribution strategy."
"Mouser is pleased to add this strong industry leader to our line card, and to deliver Wilcoxon's newest, innovative products to our customers," said Krystal Jackson, Vice President of Supplier Management at Mouser Electronics. "Design engineers now have easy access to Wilcoxon's advanced components, backed by Mouser's unsurpassed customer service and best-in-class logistics. We're looking forward to a very successful partnership."
The Wilcoxon product line available from Mouser Electronics includes a broad range of general-purpose, hazardous-area certified, and Highway Addressable Remote Transducer (HART)-enabled sensors, plus intelligent vibration transmitters and cost-effective enclosures.
Built for long use, excellent performance, and reliability, Wilcoxon's 786 series of high-quality sensors are available in a wide range of sensitivities and options including low frequency, high sensitivity, high temperature, intrinsically safe, integral cable, and more with 2-pin MIL-C-5015 or 4-pin M12 connectors.
Defined by Wilcoxon's quality, and reliability to do more, the PCH420 HART-enabled field-configurable, 4-20 mA digital velocity sensors with three independent programmable vibration bands are available in several options, connector styles and hazardous-area approval certifications.
Wilcoxon's iT series intelligent vibration transmitters measure and process dynamic vibration signals, providing a powerful way to connect standard vibration sensors to process control systems. The iT300 transmitter easily connects a standard IEPE vibration sensor to a PLC, DCS or SCADA system. The iT301 is MODBUS/RS485 enabled and features a built-in web server interface for efficient user configuration in the field.
CB series cable termination junction boxes provide a low-cost monitoring solution for standard single-channel or triaxial CBT sensors. Available in two- or four-channel models, the enclosures feature a NEMA 4X/IP66 rating for indoor and outdoor applications and are manufactured in an ISO 9001 facility.
To learn more, visit www.mouser.com/amphenol-wilcoxon.
Mouser / Wilcoxon Sensing Technologies New Supplier Announcement
Page Two
With its broad product line and unsurpassed customer service, Mouser strives to empower innovation among design engineers and buyers by delivering advanced technologies. Mouser stocks the world's widest selection of the latest semiconductors and electronic components for the newest design projects. Mouser Electronics' website is continually updated and offers advanced search methods to help customers quickly locate inventory. Mouser.com also houses data sheets, supplier-specific reference designs, application notes, technical design information, and engineering tools.