On demonstration at the International Microwave Symposium, June 8-10, Atlanta, GA., USA (In-Person Event); and June 20-25 (Virtual Event)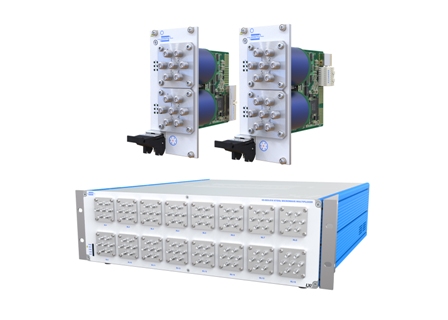 May 20, 2021 – Clacton-on-Sea, UK – Pickering Interfaces, the leading supplier of modular signal switching and simulation solutions for use in electronic test and verification, today announced its range of microwave multiplexers is now available with a maximum frequency of 67GHz in both SP4T and SP6T form factors. The higher frequency PXI/PXIe multiplexers (model 40/42-785C) and LXI multiplexers (models 60-800 & 60-803) maintain the same physical dimensions as existing lower frequency products, enabling users to upgrade to 67GHz products while maintaining the same slot count/rack height within their test systems.
The introduction of the PXIe format to the microwave multiplexers includes the entire range from 3GHz to 67GHz.
Comments Pickering's Switching Product Manager, Steve Edwards: "Key applications for these higher frequency microwave multiplexer modules are ATE systems for aerospace, military and automotive radar, high-frequency communications plus 5G telecommunications and semiconductor test."
The new 40/42-785C and 60-800 & 60-803 67GHz multiplexers are available in unterminated SP4T & SP6T forms using the SMA-1.85 connector interface. The components used exhibit virtually identical performance up to 50GHz when compared to existing 50GHz switches. This helps to maintain performance characteristics for legacy test systems that were previously based on 50GHz components. In addition, the relays used in Pickering's 67GHz multiplexers have the same life expectancy, 2M operations, as lower frequency products from the company and twice that of competitors.
The new 67GHz SP4T & SP6T relays can now also be specified in Pickering's Turnkey LXI Microwave Switch and Signal Routing Subsystems. Test engineers can specify their required mix of switch types (SPDT, transfer etc.), frequency and interconnection, plus any non-switching RF products to create a custom solution for a specific testing requirement.
The new microwave multiplexer modules will be demonstrated at Pickering's booth 1841 at the International Microwave Symposium, June 8-10, 2021, in Atlanta, GA.