No-neutral operation simplifies installation in industrial applications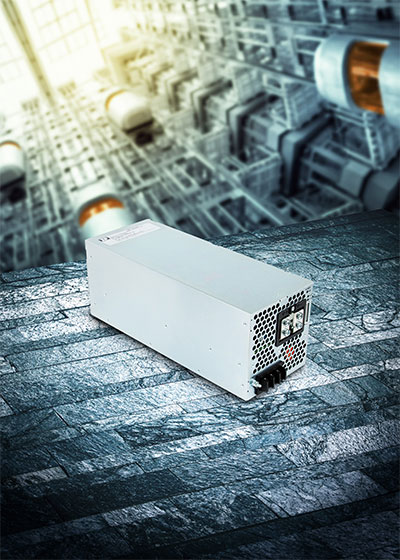 April 30th, 2019 – XP Power has announced the HPT5K0 series, a range of high-power density, high efficiency, resonant zero-voltage switching (ZVS) 5kW AC-DC power supplies with both ITE/industrial and medical agency approvals that feature a three-phase, three-wire, 180 to 528VAC input. This drastically simplifies installation as there is no need for a neutral connection, which is often not available in industrial applications.
Inbuilt digital control allows the setting of both the output voltage (0-105%) and output current (0-110%) via both analog & digital control interfaces. A Graphical User Interface (GUI) is also provided to support system development & define unique user profiles allowing tailoring of the HPT5K0 units to the end application, including signals & controls, without hardware changes, thereby reducing design time. This capability also allows the same base unit to be used across multiple applications, reducing cost by driving economies of scale. The HPT5K0 series supports I²C, RS232 & RS485 serial buses with multiple digital protocols including PMBus, CANopen, MODBUS and SCPI, offering flexibility to designers. Full documentation is provided.
Packaged in a compact chassis mount package, measuring just 330.2mm x 127.0mm x 127.0mm, the supplies offer excellent power density and efficiency levels up to 94%, occupying significantly less space than similar products.
The supplies can be configured in series or in parallel with full current sharing providing a flexible, high-density and cost-effective building block for developing high power systems up to 25kW with output voltages 48VDC to 400VDC.
The HPT5K0 series is ideal for a broad range of industrial, technology, semiconductor fabrication and medical applications, including high power LED applications such as UV curing & heating, burn in equipment, lasers, motor controllers, industrial printing (2D & 3D), EV charging, test equipment, battery simulation and medical imaging devices. The power supplies feature very fast output slew rates of <40ms, making them well-suited to challenging test applications. A thermally-controlled fan keeps the units cool with minimal audible noise.
"The HPT5K0 series is so flexible and configurable, yet it delivers high power density and high efficiency in a very cost-effective, powerful unit. It is easy to integrate, and its innovative use of multiple operational modes gives the flexibility that customers need to meet multiple high power application requirements." said Gary Bocock, Product Director at XP Power.
The power supplies are designed and qualified for EMC immunity in harsh electrical environments and emissions are class B for conducted and class A for radiated, ensuring reliable operation and ease of integration, speeding up the process of obtaining system level approvals.
Further Product Details: https://www.xppower.com/product/HPT5K0-Series
The HPT5K0 series is available from approved regional distributors, or direct from XP Power. It is offered with a 3-year warranty.