Model 40/42-739 has a differential bandwidth of 450 MHz; available in single or dual 4:1, 8:1 or 16:1 differential configurations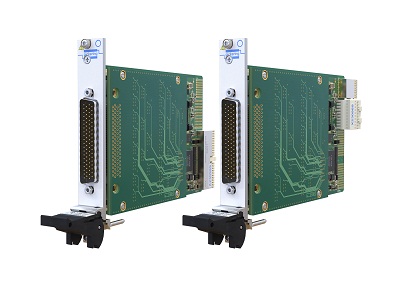 Aug 03, 2021 – Clacton-on-Sea, UK – Pickering Interfaces, the leading supplier of modular signal switching and simulation solutions for use in electronic test and verification, today launched a new PXI/PXIe multiplexer module optimized for MIL-STD-1553 testing applications. With a differential bandwidth of 450 MHz—far exceeding the requirements of MIL-STD-1553—model 40/42-739 is available in single or dual 4:1, 8:1 or 16:1 differential configurations.
Using telecommunications-grade electromechanical relays, the 40/42-739 multiplexer has a minimal initial signal path resistance of less than 450 mΩ. The module features impedance-controlled differential pairs with a single-ended characteristic impedance of 39 Ω and a differential impedance of 78 Ω, within the MIL-STD-1553-specified range of 70-85 Ω. Its compact, single-slot footprint with PXI or PXIe control interface provides flexibility in chassis selection and minimizes chassis slot count.
Comments Pickering's Switching Product Manager, Steve Edwards: "Originally introduced in the 1970s, MIL-STD-1553 was intended for use in military aircraft. However, now it is used as the basis for ground-based military vehicles, weapons systems, commercial aircraft and space applications. The 40/42-739 should have many applications in aerospace and military ATE systems, and—being designed with a 78 Ω differential impedance—the 40/42-739 can potentially support applications for 75 Ω switching such as for video signals."
The 40/42-739 PXI/PXIe multiplexer module is supported by the Pickering Interfaces' eBIRST diagnostic tool for ease of maintenance and fault-finding. The inclusion of a spare relay enables customers with applicable SMT rework training to effect on-site repair, minimizing system downtime. Pickering also offers a range of standard and custom interconnect accessories supporting the 40/42-739 family.