New Hyde Park, NY… Keystone Electronics has introduced a new packaging for its diverse selection of Female Quick-Fit, PCB Receptacles.  These Female Terminals are specifically designed on a continuous reel (strip) to be used with standard automated insertion equipment – reducing assembly and processing time.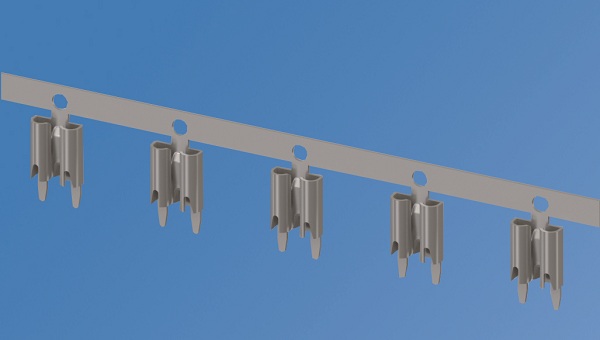 Manufactured from Brass with Tin Plating, these Female Terminals are UL Recognized and ensure easy installation and soldering to a PCB.  Packaged on reels for easy "drop in" replacements to existing bulk or reeled products.  Request Cat. No: 3573-R for use with .205" wide Male Tabs, as well as ATO, ATC or APR style Auto Blade Fuses.  These Terminals and all Keystone products are available from stock through our global distribution network and through our online ordering partners.
Keystone is a leading manufacturer of THM and SMT terminals and test points, as well as battery and fuse hardware, along with an extensive array of electronic interconnects and hardware.  Application engineering services are also available to meet special product modifications or custom designs with active stamping, machining, and assembly support.
Keystone is ISO-9001:2015 certified and RoHS, REACH compliant with USA headquarters and offices in Canada, Europe, Australia and Asia.  For further details and to request literature contact (800) 221-5510 or (516) 328-7500, Fax (516) 328-1080, Email  kec@keyelco.com or view www.keyelco.com.