Cube Tracker's Cube GPS uses Nordic nRF9160 SiP's LTE-M connectivity to transmit location data to smartphone app via Cloud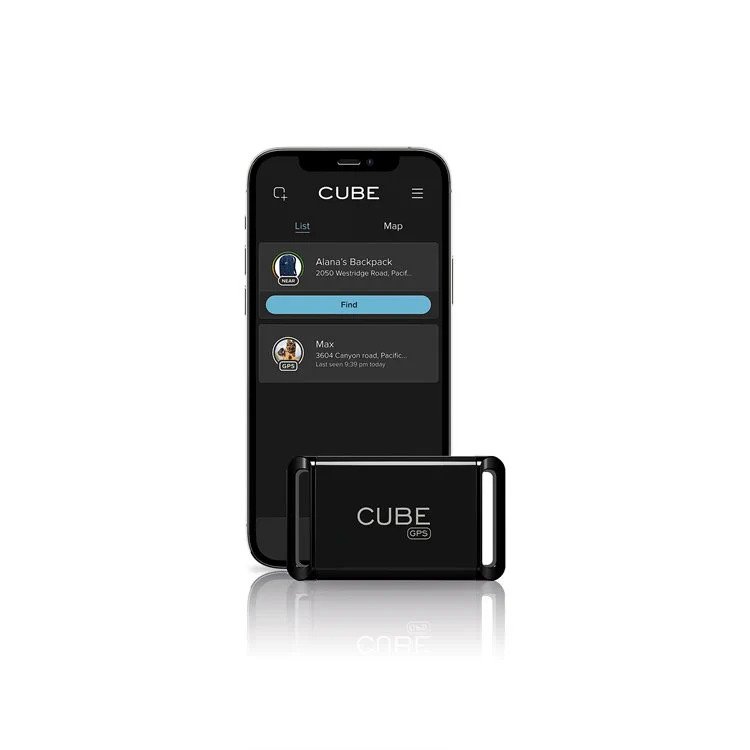 Nordic Semiconductor today announces that Decatur, MI-based technology startup, Cube Tracker, is using Nordic's nRF9160 low power System-in-Package (SiP) with integrated LTE-M/NB-IoT modem and GPS in its 'C7004 Cube GPS' tracking device. Cube GPS enables users to remotely monitor the location of important items or individuals via mature and widespread cellular infrastructure.
Cube GPS is an IP67-rated waterproof, attachable, and portable tracking device primarily designed for monitoring the location of vehicles, children, pets, and other valuables. Using nationwide U.S. coverage, the tracker can monitor the position of an object or wearer with an accuracy to within 30 meters.
Cloud connectivity via cell network
Enabled by the nRF9160 SiP's LTE-M connectivity and GPS—complemented by the tracker's built-in Wi-Fi capability for indoor and outdoor tracking, and Bluetooth Low Energy (Bluetooth LE) connectivity for proximity monitoring—the product periodically transmits the whereabouts of the tracked item/individual to the Cloud via the cell network. This in turn enables secure, reliable, and 'real time' monitoring via the iOS and Android 'Cube Tracker' app on the user's smartphone. From the app the user can review an item's location history, as well as set up 'ring when close'- and geofencing-alerts.
The nRF9160 SiP's 64 MHz Arm® Cortex®-M33 processor provides sufficient computational power to not only run the LTE-M cellular connectivity but also all other product functionality. The 1MB Flash and 256KB RAM supports complex application software and enables rapid response to location requests. The Cube GPS takes advantage of the nRF9160's compact dimensions (10 by 16 by 1mm) to incorporate the SiP, Wi-Fi/Bluetooth LE chipsets, Wi-Fi and cellular antennas, a rechargeable 500mAh battery, an LED indicator for battery and cellular status, as well as a button for emergency alerts or custom functions into a device measuring approximately 70 by 40 by 16mm. The tracker achieves battery life of between 10 to 60 days depending on adjustable GPS update intervals, thanks in part to the ultra low power characteristics of the Nordic SiP. The nRF9160 SiP is optimized for low power operation, supporting PSM and eDRX power saving modes. For example, in PSM mode, uploading 1 KB every 12 hours, the average current is 5.5 uA.
The nRF9160 SiP is certified for global cellular IoT applications, comprising a dedicated application processor and memory, multimode LTE-M/NB-IoT modem with integrated RF front end (RFFE), GPS, and power management in a compact package. The SiP incorporates the Arm M33 processor, Flash and RAM, a range of analog and digital peripherals, automated power and clock management, Arm TrustZone® for trusted execution, and Arm CryptoCell™ 310 for application layer security. The processor communicates with the LTE modem through a BSD secure sockets API and supports the application layer protocol (for example CoAP, MQTT or LWM2M) and the application itself. The nRF9160 SiP's LTE modem supports both SIM and eSIM, offers 700 to 2200 MHz LTE band support, 23 dBm output power, and single pin 50 Ω antenna- and UICC-interfaces. The LTE stack layers L1-L3, IPv4/IPv6, TCP/UDP, TLS/DTLS are part of the modem firmware.
Related products include the nRF9160 DK, a pre-certified single board development kit and the nRF Connect SDK, a software development kit which includes application layer protocols, application examples, and LTE modem firmware offered as pre-certified and precompiled downloads.
Comprehensive support
"We selected Nordic's nRF9160 SiP for the Cube GPS due to its compact size and low power consumption, while the reliable Nordic SDK helped us start development quickly," says Chris Schaap, Sales Manager at Cube Tracker.
"Nordic's efficient team provides great support across sales, marketing, and research and development. We were impressed by the company's fast response times and overall assistance."