The Wolk employs Nordic Semiconductor's nRF9160 SiP to analyze movement data, allowing it to inflate quickly if it detects a potential fall
Dutch company Wolk is producing a smart wearable airbag designed for use by the elderly or those at risk of serious falls. The 'Wolk' can be worn discretely underneath the user's clothing, and is available in four sizes in both a belt and shorts version. If it detects that the wearer is about to fall, the device will activate to inflate the airbag within 75 milliseconds, lessening the impact of the fall on the hip and reducing the severity of hip injuries.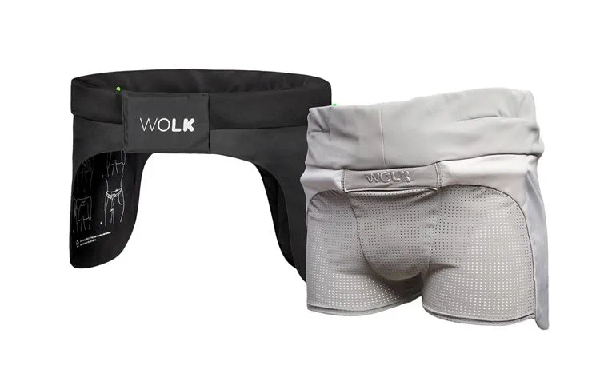 Advanced fall detection
"The Wolk uses six motion sensors to register every movement up to 500 times per second," says Filippo van Hellenberg Hubar, CEO at Wolk. "The software then processes this data, and determines continuously whether the user might be falling. When the advanced algorithm recognizes a fall, the airbag will inflate and protect the hip against injury." The proprietary algorithm is supervised using the computational power of the Nordic Semiconductor nRF9160 SiP, through its powerful 64 MHz Arm® Cortex®-M33 processor with 1 MB Flash and 256 KB RAM.
Once the software has detected a fall and the airbag has inflated, an alarm is triggered, and a notification is sent to the Cloud using the nRF9160 SiP's LTE-M/NB-IoT connectivity. From there the notification is forwarded to a nominated family member or friend via the cellular network. From the Cloud-based dashboard, users can view live data from the Wolk, as well as historical information (such as previous fall alarms).
The excellent power efficiency and power management of the Nordic SiP made it the obvious choice

Filippo van Hellenberg Hubar, Wolk
Long battery life
The Wolk can achieve 10-to-20 hours of battery life between charges using a Li-Po battery, depending on the activity level of the wearer. The battery lifetime is made possible in part due to the class-leading power consumption of the nRF9160 SiP, which supports both PSM and eDRX power saving modes. For both LTE-M and NB-IoT the PSM floor current is as low as 2.7 µA, and with an eDRX interval of 655 s the average current is 6 µA for LTE-M and 9 µA for NB-IoT.
"Power consumption was key to this application, so the excellent power efficiency and power management of the Nordic SiP made it the obvious choice," van Hellenberg Hubar says. "We also chose the nRF9160 SiP based on its price, size, availability, and multimode capability.
"Another key reason we selected the nRF9160 SiP was the technical support offered by Nordic," continues van Hellenberg Hubar. "For example, the company provided valuable assistance with the hardware design review, because not all hardware engineers are modem specialists."