SmartDisplayer Technology's BobeePass FIDO card uses Nordic nRF52840 or nRF52832 SoC for secure, multiprotocol connectivity
A new smart card developed by Taiwan-based company, SmartDisplayer Technology, provides a reliable, convenient, and secure multi-factor authentication solution for a range of markets including personal, government, financial, and enterprise. The card supports Bluetooth® LE, near-field communication (NFC), and USB communication interfaces, enabling unrestricted usage across devices.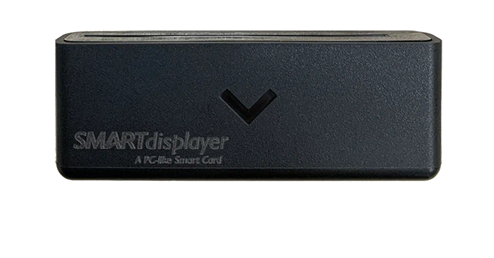 Strong authentication
The 'BobeePass FIDO card' is certified by FIDO2 L1 and L2 Authenticator Certification – a set of specifications from the FIDO Alliance. The FIDO Alliance promotes Fast IDentity Online (FIDO) authentication, enabling password logins to be replaced with secure logins using standard public-key cryptography to provide strong authentication.
The card employs a Nordic Semiconductor nRF52 Series SoC and an embedded fingerprint sensor for verification requests. It is designed for use cases including user account login, payment, public key infrastructure (PKI), database encryption, application encryption, electronic signature, and personal authentication. It can also be integrated with access control and digital wallet applications.
We selected the Nordic solutions for BobeePass largely due to the chips' low power consumption, large memory capacity, and multiprotocol support

Lantin Hsieh, SmartDisplayer Technology
"BobeePass provides a password-free solution for the digital age and is part of a zero-trust architecture," explains Lantin Hsieh, GM/RD VP, SmartDisplayer Technology.
For applications requiring Bluetooth LE, NFC and USB, the Nordic Semiconductor nRF52840 advanced multiprotocol SoC is integrated in the smart card. The nRF52840 incorporates the Arm CryptoCell-310 cryptographic accelerator offering best-in-class security for Cortex-M based SoCs. The Full Speed (12 Mbps) USB operation enables low-latency and high-bandwidth communication with a range of host devices including PCs and smartphones. If USB is not required, a version of the card employing the Nordic nRF52832 SoC is also available.
Computational power
The BobeePass FIDO card uses a rechargeable lithium battery and employs the computational power of the nRF52840/nRF52832 SoC's 64 MHz, 32-bit Arm® Cortex® M4 processor with floating point unit (FPU) to oversee the integrated fingerprint sensor and perform core processing. Data is transferred in 'real time' between the user's device and the FIDO security chip via Bluetooth LE wireless connectivity, using the 2.4 GHz multiprotocol radio of Nordic's nRF52840 or nRF52832 SoC.
"The Nordic nRF52840 SoC plays the role of the product's control core, responsible for the data input and output of Bluetooth LE/NFC/USB communication, data encryption and decryption algorithm, power control management, user interface, security chip interface, and fingerprint sensor interface," says Hsieh.
"We selected the Nordic solutions for BobeePass largely due to the chips' low power consumption, large memory capacity, and multiprotocol support. In addition, Nordic has provided important technical support and R&D reference designs for the development of our new product."