The WHOOP 4.0 uses Nordic's nRF52840 SoC to supervise sensors and relay data to smartphone app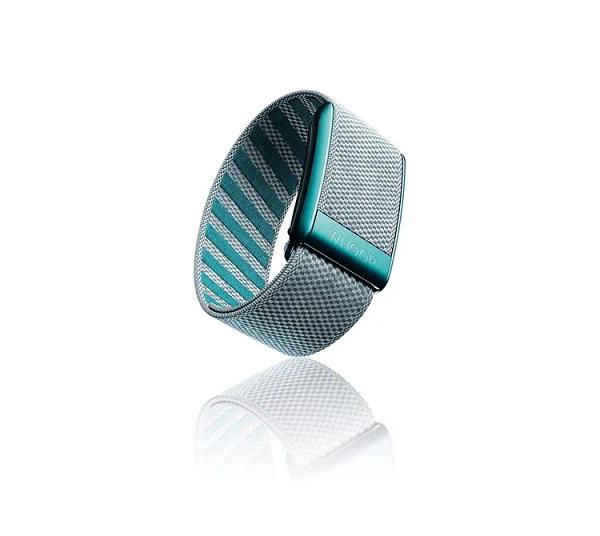 U.S.-based human performance company, WHOOP, has launched a health monitoring wearable that can perform continuous physiological data monitoring for up to five days without requiring recharge. The 'WHOOP 4.0' monitors the wearer's heart rate, heart rate variability, blood oxygen saturation, sleep data, strain, and skin temperature, and can be worn on the wrist, bicep, or discreetly enclosed within specially designed 'WHOOP Body' technical garments, that include fitness and lifestyle options.
Powerful health insights
Powered by Nordic's nRF52840 Bluetooth® LE SoC, the 64 MHz, 32-bit Arm® Cortex® M4 processor with floating point unit (FPU) provides ample computational resource to power WHOOP proprietary algorithms and supervise the on-board sensors. The data is relayed to a smartphone using Bluetooth LE wireless connectivity and accessible via the 'WHOOP' app where members can get health insights, see improvements and irregularities, as well as download health records.
Nordic has been an attentive design partner from the get-go

Brian Martins, WHOOP
"The data is collected and organized within our key pillars of strain, sleep, and recovery," says Brian Martins, Group Lead Electrical Engineering at WHOOP. "WHOOP distills personalized health and wellness data into accessible insights that provide guidance, coaching, and actionable feedback to help develop new habits which lead to healthier outcomes for members."
For example, WHOOP provides a daily recovery score calculated from a member's heart rate variability, resting heart rate, sleep duration, and respiratory rate as a way to quantify readiness to perform or a greater need for rest. WHOOP offers a 'Strain Coach' feature that gives members an exertion-level recommendation based on that recovery score as well as the strain they've already accumulated that day. WHOOP 'Sleep Coach' provides nightly personalized recommendations for when members should go to bed and wake up in order to help maximize recovery the next morning.
Around-the-clock data collection
Designed to be worn 24/7 for around-the-clock data collection, WHOOP 4.0 employs Sila's novel silicon anode material, boosting the energy density of the wearable's battery by nearly 20 percent, according to the company. "With this breakthrough battery design and extremely low power consumption enabled by the nRF52840 SoC, we can deliver up to five days of continuous physiological data monitoring before needing a recharge," says Martins.
"The nRF52840 SoC was the right choice for our design. Ample Flash and RAM allowed us to build a rich connectivity experience, while Nordic has been an attentive design partner from the get-go. The applications engineers respond quickly to inquiries and their documentation, including datasheets and reference designs, is first-class."
WHOOP also includes a sustainability program to reduce e-waste by allowing wearers to 'upcycle' their WHOOP 3.0 when they buy the new model. WHOOP 3.0 can be gifted to another person who will receive a two-month free trial. This cycle can be repeated, so the technology can continue to be re-homed in an eco-conscious manner.