Attendees at the global electronics trade fair are invited to schedule personal interactive technology demonstrations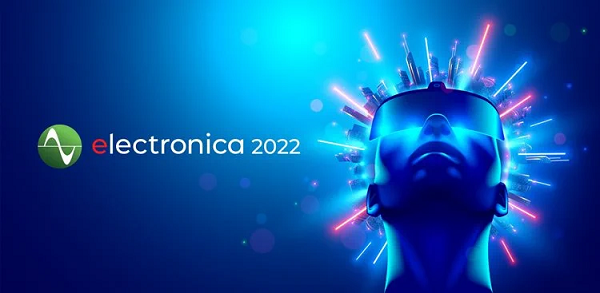 Nordic Semiconductor will showcase a wide range of cutting-edge low power wireless and IoT technology at the upcoming Electronica 2022 trade fair and conference. Staged at the Munich Trade Fair Center from November 15-18, the renowned trade fair will bring together the international electronics community to showcase the latest technology shaping the future of the IoT.
Nordic invites new and existing customers to come to its booth (Stand 360, Hall C2) to experience a range of personalized demonstrations including how Matter will make it easy for developers to build secure, reliable and interoperable smart home solutions. The company will also demonstrate how it is bringing its renowned low power wireless capability to Wi-Fi following the recent introduction of the nRF7002 ultra low power, dual-band Wi-Fi 6 companion IC. Other demonstrations will feature nRF Cloud Location Services, Nordic's award-winning tool for simplifying IoT device fleet management, as well as Bluetooth® LE Audio (LE Audio), that will enable engineers to enhance the sound quality and power consumption of wireless audio products.
"It has been four years since the last in-person Electronica trade show and during that time Nordic has put a huge amount of time and energy into its R&D efforts," says Svein-Egil Nielsen, CTO/EVP R&D and Strategy with Nordic Semiconductor. "Electronica 2022 will provide us with a long-awaited opportunity to showcase the results of this R&D investment to the global electronics and IoT community. We welcome all customers and visitors to our booth to explore the capabilities of Nordic's Bluetooth LE, Matter, Wi-Fi and Cellular IoT technology and what it will mean for the future of the IoT."
Electronica 2022 will provide us with a long-awaited opportunity to showcase the results of this R&D investment to the global electronics and IoT community

Svein-Egil Nielsen, Nordic Semiconductor
Nordic contributes to Matter
Matter is the result of the Connectivity Standards Alliance's efforts to create a unified application layer for smart home applications. The initiative has seen major tech companies collaborate. Nordic has been a key contributor to the Matter specification and at Electronica 2022, the company will show how its proven nRF53 and nRF52 Series SoCs support Matter's adoption for smart home products.
With the release of the nRF7002, Nordic brings decades of ultra low power wireless IoT and silicon design expertise to Wi-Fi 6, a standard which offers efficiency gains that support long-life, battery-powered wireless IoT operation, and also forms an integral part of the Matter ecosystem. The nRF7002 Wi-Fi 6 Companion IC, in conjunction with Nordic's nRF9160 System-in-Package (SiP) with integrated LTE-M/NB-IoT modem and GNSS, can also be used to perform Wi-Fi locationing. Wi-Fi locationing provides a solution to both indoor and outdoor asset tracking applications requiring lower power consumption than GPS tracking can offer and with greater accuracy than cellular-based locationing.
A full location services model for cellular IoT products
nRF Cloud Location Services enables customers to access trusted support for fleets of cellular IoT devices, including cellular network and Assisted and Predicted GPS location services. It builds upon Nordic's versatile cellular IoT connectivity enabler, nRF Cloud, and offers customers a full commercial location services model once their nRF9160 SiP-powered cellular IoT products are deployed. nRF Cloud supports both device-to-Cloud and Cloud-to-Cloud solutions for integrating with customers' existing Cloud solutions and will offer those same customers firmware over-the-air (FOTA) updates for devices in the field.
The company's technical, development and engineering team will also contribute to the Electronica 2022's supporting program, delivering presentations on 'The rapid evolution of IoT embedded development', 'Leveraging embedded ML to reduce battery cost and size in cellular IoT products' and 'The completely wireless embedded ML prototyping platform'.
To learn more about these presentations or to request a meeting or schedule a personal technology demonstration with a Nordic engineer at Stand 360, Hall C2, click here.