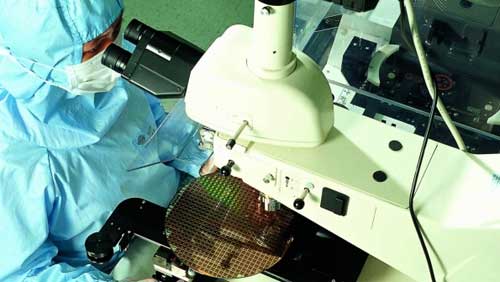 NXP Semiconductors has sold its shares of Advanced Semiconductor Manufacturing Corporation, an analog foundry based in Shanghai that fabricates chips for communications, consumer devices, and automobiles. The Dutch chip maker owned around 27.5% of ASMC.
NXP has longstanding ties with the foundry. ASMC was founded by Philips Semiconductor in 1988 and spent years as an exclusive supplier for the Dutch giant, which spun off NXP a decade ago. The foundry went independent in 1995 and now operates two factories in Shanghai, one for eight-inch wafers and another for wafers measuring five or six inches.
NXP sold around 420 million shares in the foundry. On Wednesday, the company said that Shanghai Pudong Science and Technology Investment, a Chinese venture capital and private equity firm, bought the shares for $53.7 million. ASMC, which went public in 2006, trades on the Hong Kong Stock Exchange.
NXP Semiconductors is in the process of closing its $47 billion sale to Qualcomm. The deal cleared a key hurdle earlier this month, when Qualcomm announced that the waiting period under the Hart-Scott-Rodino Antitrust Improvements Act had expired, which amounts to approval from regulators in the United States. The deal is expected to close near the end of this year.
Qualcomm may have stiffer challenges ahead. The deal is awaiting approval from the Chinese government, which industry analysts say could view the deal as a threat to its semiconductor ambitions. A recent report warned that regulators could require Qualcomm or NXP to sell off businesses as a condition for approving the deal.
But if all goes well, the acquisition will be the biggest in the semiconductor industry's history. It will provide Qualcomm with technologies outside its normal field of smartphone expertise, as well as the fabless supplier's first factories. NXP makes billions of dollars every year selling chips for everything from cars to factory equipment.