For its fiscal third-quarter 2017 (to 1 April), Oclaro Inc of San Jose, CA, USA (which provides components, modules and subsystems for optical communications) has reported revenue of $162.2m, up 5% on $153.9m last quarter and up 60% on $101.1m a year ago. There was growth in all areas of business (especially 100G-and-beyond products) in what is normally a seasonally weak period.
Sales for 100G-and-beyond products were $125.8m (78% of total revenue), up 11% on last quarter's $113.8m (74% of total revenue) and up 115% on $58.6m (58% of total revenue) a year ago, driven by newer line-side and client-side products such as shipments of the CFP2-ACO transceiver and the emerging QSFP28 transceiver product family into the metro and data-center markets.
Sales for 40G-and-below products were $36.4m (22% of total revenue), down 9% on last quarter's $40.1m (26% of total revenue) and $42.5m (42% of total revenue), due to the expected reduction in legacy 10G product shipments. However, there was good sales growth of 10G tunable transceivers (for which demand is expected to remain strong).
Datacom (client-side) sales rose by 9% sequentially (to $76m, of which $18m was 40G-and-below and $58m was 100G-and-above), driven by the continuing ramp-up of QSFP28 products, supplementing the mostly CFP-based product sales. Telecom (line-side) sales grew 3% sequentially as metro and data-center interconnect (DCI) sales continue to expand.
"We also achieved further customer and regional diversification, driven by sales growth in North America and Europe," says CEO Greg Dougherty. Oclaro's 10%-or-greater customers represented 59% of sales compared to 68% last quarter, with the same top four customers contributing 18%, 17%, 12% and 12% respectively. Of total revenue, China comprised 36% (down from 42%, as sales fell by 9%) and Southeast Asia 22% (down from 26%), while the Americas comprised 28% (up from 21%) and Europe, Middle East & Africa (EMEA) 12% (up from 10%).
Gross margin and operating income were both records, despite the impact of annual price negotiations (since price reductions were towards the more favorable end of the usual 10-15% range).
On a non-GAAP basis, gross margin has risen further, from 27.2% a year ago and 39.8% last quarter to a record 41.6% (above the 36-39% guidance), due to a richer 100G product mix (more new products and less from CFP) and greater scale as Oclaro further leveraged its manufacturing overhead.
Operating expenses have risen from $22.9m a year ago and $25m last quarter to $27m (although this has been cut from 23% to just 17% as a proportion of sales).
Operating income has risen further, from just $4.6m (5% of sales) a year ago and a record $36.2m (24% of sales) last quarter to $40.5m (25% of sales), exceeding the $32-36m guidance.
Likewise, net income has risen from just $3.3m ($0.03 per diluted share) a year ago and $36.3m ($0.21 per diluted share) last quarter to $39.9m ($0.23 per diluted share).
Adjusted EBITDA (earnings before interest, taxes, depreciation and amortization) was $45.5m (up from $41.2m last quarter and $8.5m a year ago). Hence, after subtracting capital expenditure (CapEx) of $21.7m (up further, from $17.2m last quarter) and working capital (including prepaid expenses) of $12.5m (up from $9.8m), overall cash, cash equivalents, restricted cash, and short-term investments rose by $11.3m during the quarter, from $243.5m to $254.8m.
For fiscal fourth-quarter 2017 (to 1 July), Oclaro expects revenue to fall by about 10% to $144-152m. Despite the lower revenue, gross margin should be 38-41%, although operating income is expected to fall to $27-31m.
The drop in revenue is due to (1) a significant slowing of demand in China seen in April; (2) an accelerated transition from the 100G CFP transceiver family to the smaller QSFP28 form-factor platform for client-side optics; and (3) an expected 20-25% decline ($7-9m) in 40G-and-below business.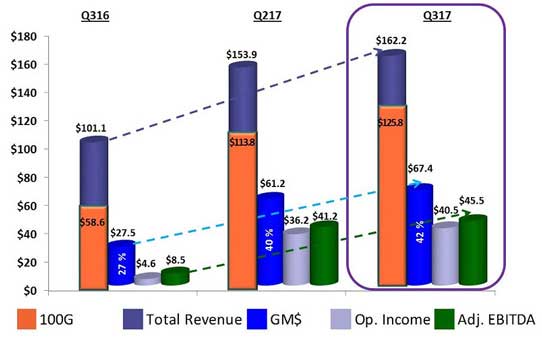 "In April, we were informed by both of our major Chinese customers that demand would be even slower than previously anticipated for Q4," notes Dougherty. "The majority of the projected Q4 impact is coming from one customer. This customer cited both the reduction in demand for the Chinese market as well as an inventory correction… due in part to the corporate mandate for better cash flow. Most of the 10G and 100G products that we ship to this customer are expected to be impacted," he adds. "The reductions were smaller at the other customer and primarily involved just two product codes. We have very good visibility with this customer, based on a supply agreement that runs through the end of this calendar year."
Demand for client-side CFP transceivers peaked in the March quarter. "We are seeing a significant falloff for these products in Q4 [of about 20% sequentially]," notes Dougherty. "This is again mainly caused by China, but we are seeing a similar impact in select router customers in North America," he adds. "This transition is driving the demand for QSFP28 LR4, where we are well positioned and ramping our capacity. We currently expect our QSFP28 sales to double in Q4 and continue to grow throughout this calendar year."
The drop in 40G-and-below business comprises (1) the slowdown in China; and (2) the planned end of life of the firm's 40G telecom products (with the ending of shipments in the March quarter leading to an expected $3m reduction in revenue in the June quarter).
"The fundamental demand drivers in China remain intact. We anticipate growth from the region to return again later this year from metro and provincial networks deployment," Dougherty says. "Another future growth driver for China will be the deployment of 5G wireless technology. China is driving to be the first country to deploy 5G and is targeting 2019 to do so. 5G will require extensive 100G plus coherent networks as well as new higher-speed back-haul and front-haul connection," he adds. "In addition to the higher speeds, these networks will require the transceivers to operate over industrial temperature ranges because they will be held outdoors in uncontrolled environments." At the Optical Fiber Communications conference & exhibition (OFC 2017) in Los Angeles in late March, Oclaro announced the availability of its industrial-temperature 25G and tunable transceivers for this application. "We are uniquely positioned to be successful in this new very large emerging market," Dougherty believes.
"We have become less reliant on China as we have diversified our customer base," stresses Dougherty. "While China will likely not recover until later in this year, we do believe that the strength in the metro and data-center markets [which are driven rather by North America and now also Europe] will allow us to resume our growth in the September quarter… driven by increases in our CFP2 ACO and QSFP28 sales. The ACO continues to be the platform of choice for metro and data-center interconnects and, as a result, we have significantly diversified our customer base. We continue to be the market leader and have numerous multi-year supply agreements in place. Inside the data center, we are experiencing success with our QSFP28 family. One key aspect is that our products are able to interoperate with other companies' QSFP28 products as well as the installed base of CFP products. Customers are valuing this intra-operability more and more, strengthening Oclaro's market position," he adds.
Regarding near-term CapEx, Oclaro expects to invest $20-25m per quarter to expand manufacturing capacity for QSFP28, CFP2-ACO and tunable laser production, leading to additional depreciation of about $1m per quarter over the calendar year.
"As we look at the evolution of optics within the data center, we see a strong push for higher speeds," says Dougherty. Oclaro demonstrated its 400G data-center product at March's OFC 2017, and is currently shipping its CFP8 PAM4 transceiver and developing next-generation 400G PAM4 small-form-factor solutions such as the QSFP 56 double density and the OSFP (octal small-form-factor pluggable) transceivers. "These products are all enabled by our industry-leading 56G InP laser technology. Higher and higher speeds play very well to Oclaro strength, and we expect to be a leader in 400G optic," he adds. "Despite the near-term headwinds, given our technology leadership in 100G and beyond, we remain bullish about the prospects for future growth in the markets that we serve."
For calendar full-year 2017, Oclaro expects revenue growth of about 20% on 2016, and gross margin to remain in the upper 30s to 40% range. Coupled with 18-20% operating expenses, this should yield sustainable operating income as a percentage of sales in the high teens to low-20s.