For fiscal first-quarter 2018 (to end-September 2017), Oclaro Inc of San Jose, CA, USA (which provides components, modules and subsystems for optical communications) has reported revenue of $155.6m (split about 48%:52% between client-side/datacoms and line-side/telecoms). This is up 4% on $149.4m last quarter and 15% on $135.5m a year ago, fueled by the continued strength of the CFP2-ACO and QSFP28 transceiver product lines.
Sales from 100G-and-above products were $125.6m (81% of total revenue), up 4% on $120.6m last quarter and up 28% on $97.8m (72% of total revenue) a year ago. Sales from 40G-and-below product were $30m (19% of total revenue), down on $37.7m (28% of total revenue) a year ago but up 4.2% on $28.8m last quarter.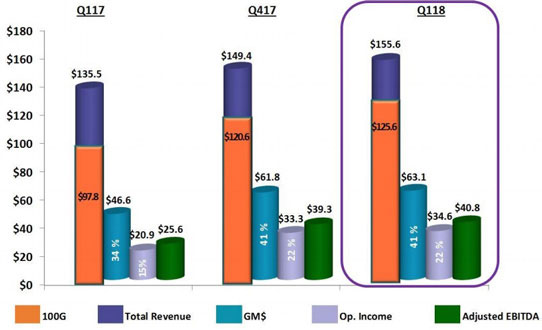 The growth came despite the headwinds facing the industry:
China revenue fell for a third consecutive quarter, down 12% from last quarter, from 32% of total revenue to 27%, while the Americas rose from 39% to 47%, and Southeast Asia comprised 15% and Europe, the Middle East & Africa (EMEA) 11%.
As expected, revenue for the 100G CFP family of client-side transceivers fell by more than 25% for the second consecutive quarter, down by $9m on last quarter to $24m.
However, this decline was more than offset by growth in QSFP and ACO products. Excluding the CFPx family, 100G-and-above products grew by 16% on last quarter and by 89% on a year ago. So, despite the CFP decline, Datacom revenue grew by 3% sequentially due to good execution by the firm's operations team on the ramp up of the QSFP28 family. Telecom revenue rose by 5%.
On a non-GAAP basis, gross margin was 40.6%, down slightly from 41.4% last quarter but up from 34.4% a year ago (and near the top of the expected 38-41% range), driven by growth in newer sub-100G products.
Operating expenses were $28.5m (18% of sales, an improvement from 19% both last quarter and a year ago), despite R&D expenses growing from $12.7m a year ago and $15m last quarter to $15.6m, while SG&A expenses were held roughly level at $13-13.5m.
Operating income has risen further, from $20.9m (15% of sales) a year ago and $33.3m last quarter to $34.6m (22% of sales), above the forecasted $30-34m (20-21% of sales). Likewise, net income has risen further, from $20m ($0.14 per diluted share) a year ago and $33.9m ($0.20 per diluted share) last quarter to $34.5m ($0.20 per diluted share).
Adjusted EBITDA has risen from $25.6m a year ago and $39.3m last quarter to $40.8m. Hence, after subtracting capital expenditure (CapEx) of $18m, overall cash, cash equivalents, restricted cash and short-term investments rose by $22m, from $257.5m to $279.8m.
"Our near-term visibility includes continued softness in China, compounded by a recent slowdown in data-center sales," says CEO Greg Dougherty. "Our exposure on that data-center world – both through direct sales and indirectly through traditional network equipment manufacturers – has grown substantially," he adds. "We expect demand for QSFP28 LR4, which currently accounts for the majority of our QSFP sales, to be slower over the next few quarters as select data-center customers work off inventory. We are also seeing some customers adopting CWDM4 as an alternative approach to LR4. This development creates added uncertainty and some downward pressures on revenues for Q2 and potentially Q3.
Therefore, for fiscal second-quarter 2018 (to end-December 2017), Oclaro expects revenue to fall to $135-143m, due mostly to Datacoms, with revenue from China flat to slightly down. In particular, CFP should fall further, by about $10m, from $24m to $14m (before falling by a further 30-40% in the March quarter, as China also begins to shift to QSFP platforms). 10G product revenue should continue to be relatively flat (and is projected to remain in the range of the high 20s to $30m per quarter through fiscal 2018). Gross margin should drop to 36-39%.
"Despite our reduced outlook, we expect to remain solidly profitable for the December quarter, which would serve as a further testament to our strong financial model," says Dougherty.
Operating income is expected to fall back slightly, to $19-23m (about 15% of sales, "better than pretty much anyone in this space," says Dougherty). "We're generating cash and performing better than I think anyone has ever performed in this space in terms of operating income consistency," Dougherty adds.
For fiscal full-year 2018, Oclaro is lowering its CapEx projection, from $65-75m (similar to fiscal 2017) to $55-65m, with an exit rate in June of about $10m per quarter.
"Given our limited visibility, we're not prepared to call bottom for revenue in China," says Dougherty. "Revenue growth will resume during the second half of calendar 2018, driven by a 100G-and-beyond coherent products, our QSP28, and our industrial-temperature-range 25G transceivers used in 5G applications," he believes.
For calendar year 2018, Oclaro expects operating expenses to be $30-32m per quarter.