In partnership with Unikie and CoreHW, onsemi provides the system to easily develop asset tracking solutions for warehouses, retail stores and other buildings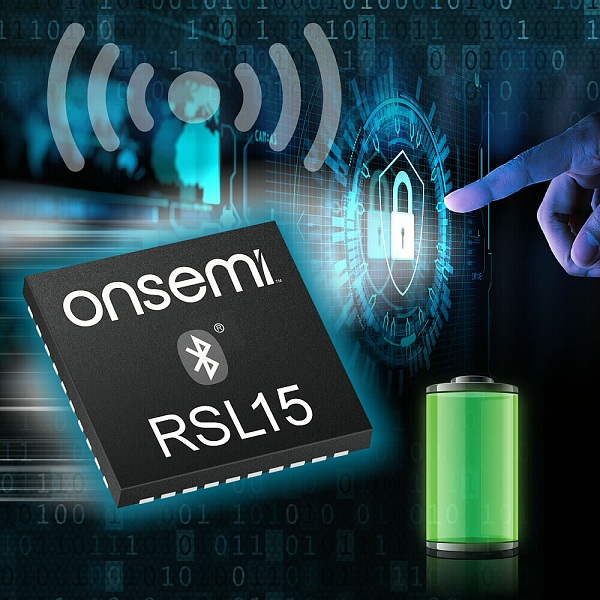 Scottsdale, Ariz. – June 27, 2023 – onsemi (Nasdaq: ON), a leader in intelligent power and sensing technologies, today launched an end-to-end positioning system that enables the simpler and faster development of more accurate, cost- and power-efficient asset tracking solutions. The system is based on onsemi's RSL15 MCU, the industry's lowest power Bluetooth® 5.2 MCU, and incorporates software algorithms and components provided by Unikie and CoreHW, resulting in a fully integrated solution with components that have been optimized to work together.
The new Bluetooth Low Energy (Bluetooth LE) solution enables tags to be used for tracking objects or persons with sub-meter accuracy in defined closed spaces such as warehouses, stores or other buildings. It is scalable to large volumes of tracked objects in terms of performance and cost while reducing the amount of development effort and time-to-market.
With several new advanced features, the RSL15 is ideal for various industrial automation applications, including asset tracking, smart retail and IoT edge nodes.
Accuracy: The RSL15 Bluetooth 5.2 MCU supports longer range, higher data transmissions and localization through Angle of Arrival (AoA) and Angle of Departure (AoD).
Power Efficiency: onsemi's innovative smart sensing feature allows the Arm® Cortex®-M33 processor to remain in deep sleep while continuing to monitor sensor interfaces.
Security: The RSL15 is designed with Arm TrustZone® and Arm CryptoCell™-312 technology to establish a device's root of trust and to protect code and data authenticity, integrity and confidentiality. PSA Level 1 certified, this design enhances the security measures already offered in the Bluetooth protocol for assurance at both the data and application levels.
Unikie, a pioneering engineering company focused on enabling smart spaces, developed the software algorithms and components to calculate the real-time positions of a Bluetooth LE-based tag, using the IQ values for the received signals. Unikie's high-performance localization software is packaged as the Unikie BLE Localization Engine product for edge or cloud deployment. In addition, Unikie's APIs can be easily integrated into enterprise systems and data analyzers.
CoreHW, a fabless semiconductor company developing Integrated Circuit (IC) technologies, provides Bluetooth Angle of Arrival (AoA) development kits to a range of industries, enabling them to leverage indoor location systems for enhanced location-based applications. CoreHW designs and supplies Bluetooth LE enabled antenna array boards in various form factors that offer highly accurate location capabilities at a 10-centimeter level.
Download the application note to learn more about the partnership.