Light is one of the most important resources for civilization because it provides energy as it passes through the solar system. Light has an impact on our daily lives. Photoreceptors in living organisms detect light in their surroundings.
OPT3007 ultra-thin ambient light sensor by Texas Instruments is simply a lux meter determining the intensity of visible light as perceived by the human eye.
The OPT3007 has a fixed addressing scheme, allowing it to operate with only four pins connected. As a result, the PCB designer can make a larger opening to the active sensor area.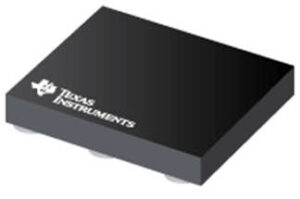 The sensor's precision spectral response closely matches the photopic response of the human eye. The OPT3007 measures the intensity of light as seen by the human eye, regardless of the light source, thanks to strong infrared (IR) rejection.
The IR rejection also helps to maintain high accuracy when the design calls for mounting the sensor behind dark glass.
The OPT3007 creates light-based experiences for humans, often in conjunction with backlight ICs or lighting control systems, and is a replacement for photodiodes, photoresistors, or lower-performing ambient light sensors.
Measurements can be made from 0.01 lux up to 83k lux without manually selecting full-scale ranges by using the built-in, full-scale setting feature. This capability allows light measurement over a 23-bit effective dynamic range.
For system integration, the digital operation is adaptable. Continuous or single-shot measurements are both possible. The digital output is communicated via a two-wire serial interface that is I2C and SM Bus compatible.
The pin diagram of OPT3007 is shown below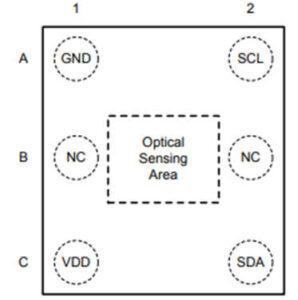 A1 – GND – Ground
B1 – NC – No Connection
C2 – VDD – Device Power
A2 – SCL – Digital Input (I2c clock). Connect with a 1.6V to 3.6V supply.
B2 – NC – No Connection
C2 – SDA – Digital Input/ Output (I2C Data). Connect with a 10kohm resistor to a 1.6V to 5.5V Supply.
The block diagram is shown below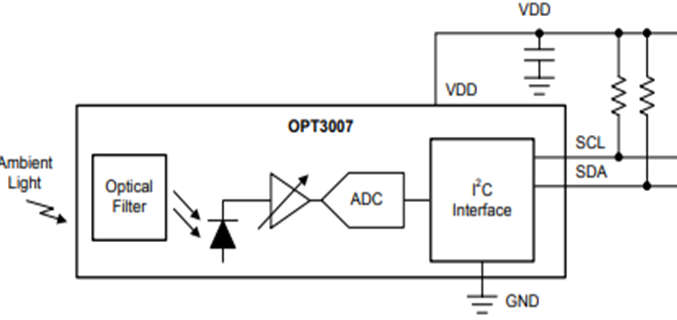 OPT3007 is compatible with both I2C and SM Bus interfaces. OPT3007 is connected to the bus via two pins: the SCL clock pin and the SDA open-drain bidirectional data pin.
This sensor functions as an I2C and SM Bus slave device. To communicate with the sensor, the master sends an I2C start command first. The master addresses the slave device with a seven-bit slave address 1000101.
Features
Precision Optical Filtering to Match Human Eye: – Rejects > 99% (Typical) of IR.
Automatic Full-Scale Setting Feature
Measurements: 0.01 Lux to 83k Lux
23-Bit Effective Dynamic Range With Automatic Gain Ranging
12 Binary-Weighted Full-Scale Range Settings: < 0.2% (Typical) Matching Between Ranges
Low Operating Current: 1.8 µA (Typical)
Operating Temperature Range: –40°C to +85°C
Wide Power-Supply Range: 1.6 V to 3.6 V
Fixed I 2C Address
5.5-V Tolerant I/O
Fixed I 2C Address
Small-Form Factor: – 0.856-mm × 0.946-mm × 0.226-mm PicoStar™ Package
OPT3007 is a Smaller Version of OPT3001
Applications
Smart Watches
Wearable Electronics
Health Fitness Bands
Display Backlight Controls
Lighting Control Systems
Tablet and Notebook Computers
Cameras