An optocoupler (also known as an optoisolator) is a semiconductor device that transmits an electrical signal between two isolated circuits. An optocoupler consists of two parts: an LED that emits infrared light and a photosensitive device that detects light from the LED. Both parts are housed in a black box with connecting pins. The input circuit receives an incoming signal, whether AC or DC and uses it to turn on the LED.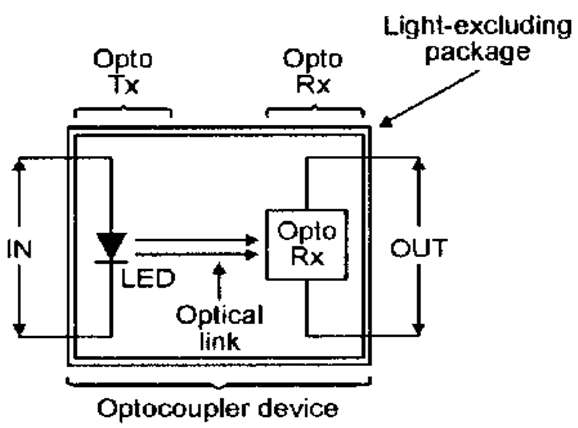 An optocoupler device is simply a sealed, self-contained unit that houses independently powered optical (light) Tx and Rx units that can be optically coupled together. The figure above depicts the basic shape of such a device. The Tx unit is an LED in this case, but the Rx unit could be a photo-transistor, a photo-FET, an Opto-Triac, or another type of photo-sensitive semiconductor element; the Tx and Rx units are housed closely together in a single, sealed package.
Working of Optocoupler
Couplers use light to transmit electrical signals. Because they provide good isolation for input and output signals, they are widely used in a variety of circuits. It is now one of the most commonly used optoelectronic devices. An optocoupler is made up of three parts: light emission, light reception, and signal amplification. The input electric signal causes the LED to emit light of a specific wavelength, which is detected by the photodetector and converted into photocurrent, which is then output after further amplification.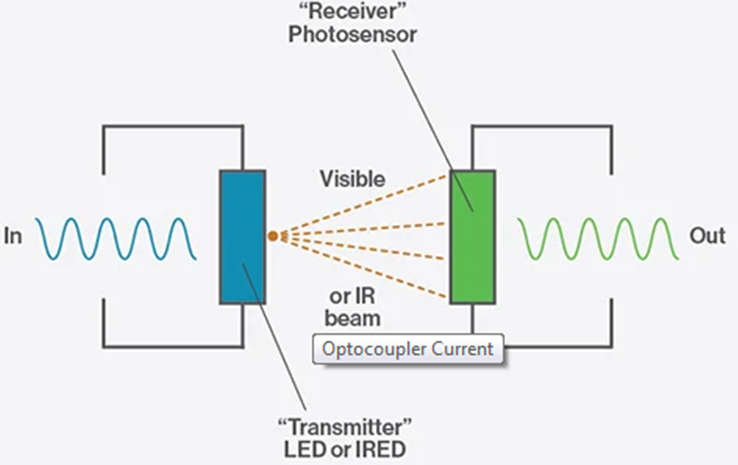 The electro-optical-electric conversion is then completed, which serves as input, output, and isolation. Because the interaction between the optocoupler's input and output is unidirectional and the transmission of electric signals is unidirectional, the optocoupler has good electrical insulation and anti-jamming ability. Furthermore, because the optocoupler's input end is a low resistance component of current type work, it has a strong common mode suppression ability.
As a result, when used as a terminal isolation element in long-line transmission information, and as an interface device for signal isolation in computer digital communication and real-time control, it can significantly improve the signal-to-noise ratio (SNR). Computer work can be greatly improved in terms of dependability.
Different Types of Optocoupler
Phototransistor-based optocoupler.
Optocoupler based on the Photo Darlington Transistor.
Optocoupler that employs Photo TRIAC.
Optocoupler with Photo SCR.
1. Phototransistor-based Optocoupler
The internal construction of a Photo-transistor Optocoupler is shown in the upper image. The type of transistor can be either PNP or NPN.
Depending on the availability of the output pin, a phototransistor can be of two types. There is an additional pinout on the second image on the left that is internally connected with the transistor's base. Pin 6 is used to control the phototransistor's sensitivity. A high-value resistor is frequently used to connect the pin to the ground or negative. False triggering caused by noise or electrical transients can be effectively controlled in this configuration.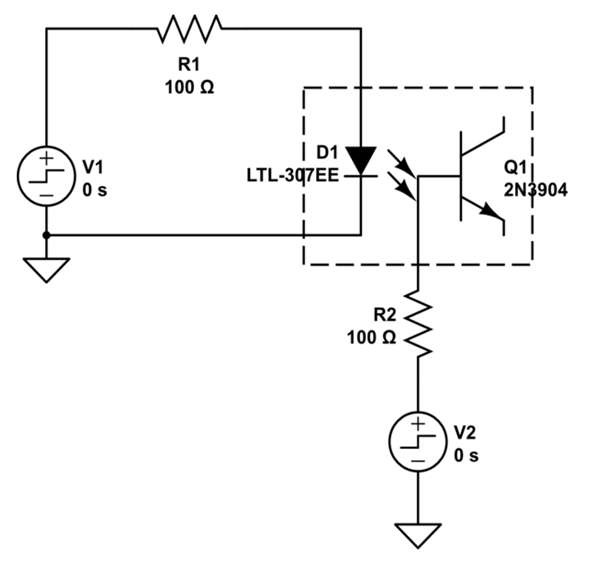 Also, before using a phototransistor-based optocoupler, the user must be aware of the transistor's maximum rating. PC816, PC817, LTV817, and K847PH are a few examples of photo-transistor-based optocouplers. A transistor-based optocoupler is used in DC circuit isolation.
2. Optocoupler based on the Photo Darlington Transistor
Darlington Transistor is a two-transistor pair in which one transistor controls the base of the other transistor. The Darlington Transistor provides high gain capability in this configuration. The LED, as usual, emits infrared light and controls the base of the pair transistor.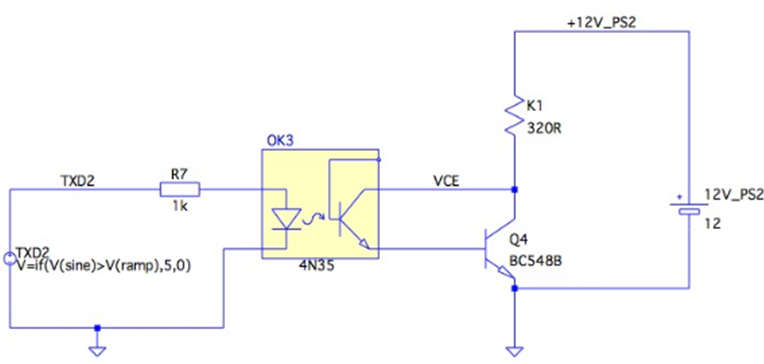 This type of optocoupler is also used for isolation in DC circuits. The sixth pin, which is internally connected to the transistor's base, is used to control the sensitivity of the transistor, as previously discussed in the photo-transistor description. A few photo-Darlington optocoupler examples are 4N32, 4N33, H21B1, H21B2, and H21B3.
3. Optocoupler that Employs Photo TRIAC
In the upper image the internal construction or the TRIAC-based optocoupler is shown.

TRIAC is mainly used where AC-based control or switching is needed. The lead can be controlled using DC, and the TRIAC is used to control AC. Opto-coupler provides excellent isolation in this case too. Here is one Triac Application. The photo-TRIAC-based optocoupler examples areIL420, 4N35, etc are an example of TRIAC-based optocouplers.
4. Optocoupler with Photo SCR
SCR is an abbreviation for Silicon controlled rectifier, also known as a Thyristor. The internal construction of a Photo-SCR-based optocoupler is shown in the upper image. The LED, like other optocouplers, emits infrared light. The intensity of the LED controls the SCR. Opto-coupler based on photo-SCR that is used in AC circuitry. More information on Thyristor can be found here.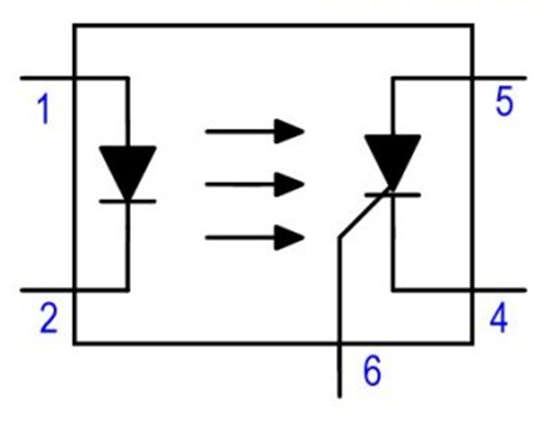 MOC3071, IL400, MOC3072, and other photo-SCR-based optocouplers are examples.
Advantages of Optocoupler
Smaller and lighter
Low price
It works very quickly.
There is less noise.
The optocoupler is effective with both AC and DC high-voltage signals.
It is also used to detect the presence of physical objects in a variety of sensor applications.
Optocouplers have a lifespan of several decades.
It has an excellent response at lower frequencies.
There is no contact bounce, no arc interference, and no circuitry wear.
It uses less energy.
Because of the short switch-on and switch-off times, it has a high switching frequency.
Disadvantages of Optocoupler
Optocouplers cannot handle high currents.
For operation, an optocoupler requires an external biasing voltage.
The high-frequency response is inadequate.
Phototransistor-based optocouplers do not have the same linear relationship between changes in light input and output current as photo diode-based types.
Applications of Optocoupler
Controls for solenoids/valve
Switches that provide constant power
Temperature regulation
Starters and drivers for alternating current motors
Controls for lighting
Contactors for E.M.
The solid-state relay