An oxygen sensor or lambda sensor is an electronic device that measures the proportion of oxygen (O2) in the gas or liquid being analyzed.
here, lambda refers to air–the fuel equivalence ratio, usually denoted by λ.
It was developed by Robert Bosch.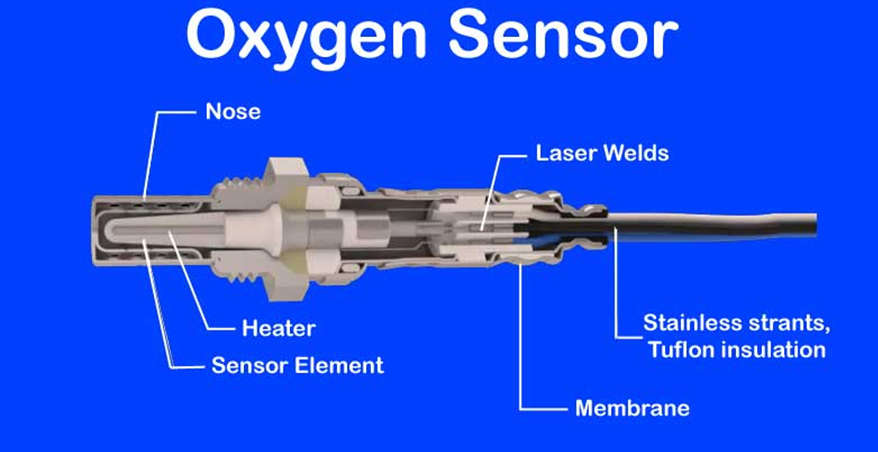 Working Principle of Oxygen Sensor
The oxygen cylinder works on three principles
A chemical reaction that gives off electrons in the presence of oxygen.
In this, the presence of oxygen produces a chemical reaction in the sensor which results in generating an electrical output.
A change in light intensity is given off by a fluorescent material when exposed to oxygen.
In this, a light source is used to incident light and detect the behavior depending on the amount of oxygen.
A change in the wavelength of sound, light, or change in a magnetic field as oxygen passes through it.
Applications of Oxygen Sensor
1) Electrochemical Oxygen Sensor
These are primarily used to measure oxygen levels in ambient air.
They measure a chemical reaction that is produced in the sensor when reacted with oxygen that is to be tested and create an electrical output proportional to the oxygen level.
As electrochemical sensors produce a current, they are self-powered, making them useful for measuring oxygen gas.
Breathalyzers, respiratory sensors, and blood glucose sensors are some examples.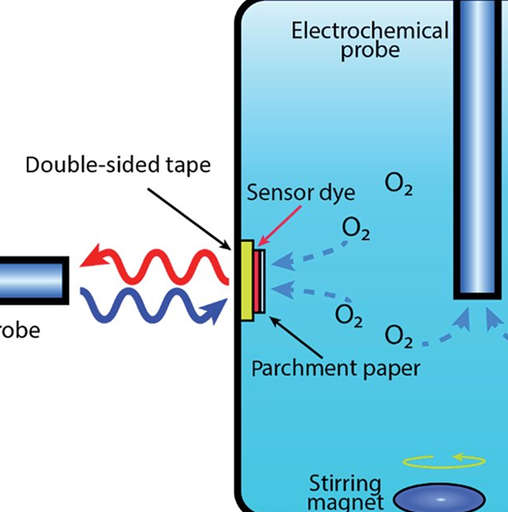 2) Optical Oxygen Sensor
Some molecules or compounds, when exposed to light, emit light energy. And if oxygen molecules transfer the light energy it results in less fluorescence.
A known light source is used and the amount of light energy is detected which is inversely proportional to the number of oxygen molecules in the sample.
Therefore, the less emission of light energy(fluoresce) is detected, the more oxygen molecules must be present in the sample gas(inversely proportional).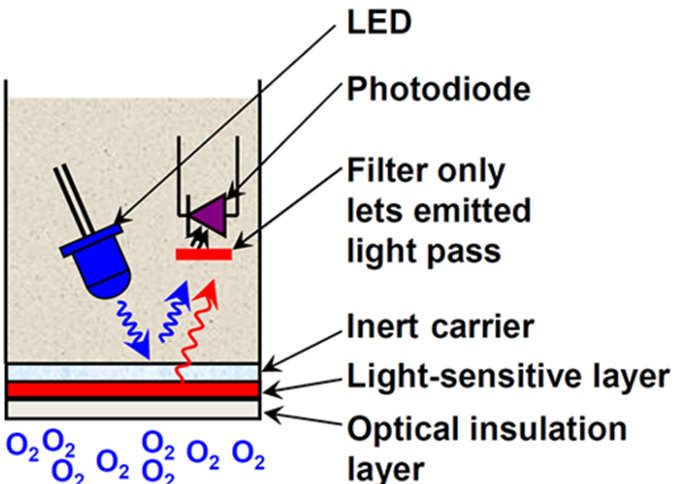 3) Paramagnetic Oxygen Sensor
Paramagnetic oxygen sensors rely on the fact that oxygen molecules are attracted to strong magnetic fields.
The sample gas is introduced into the sensor and passed through a magnetic field.
While not a common sensing technology, it can be used in industrial process control applications where a zirconia oxygen sensor cannot.