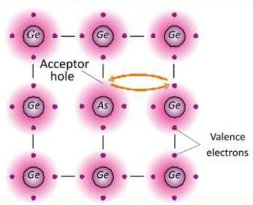 These are obtained by adding a small amount of trivalent impurity to a pure sample of semiconductor (Ge).
Majority charge carriers — holes
Minority charge carriers — electrons
Conductivity σ » nh µh e
P-type semiconductor is also electrically neutral (not positively charged).
Impurity is called Acceptor impurity.
Acceptor energy level lies just above the valence band.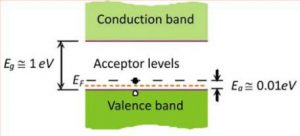 Conductivity of Semiconductor
(1) In intrinsic semiconductors ne = nh.
(2) When some potential difference is applied across a piece of intrinsic semiconductor current flows in
it due to both electron and holes.
i= ie+ih Þ i =eA[neve+nhvh]