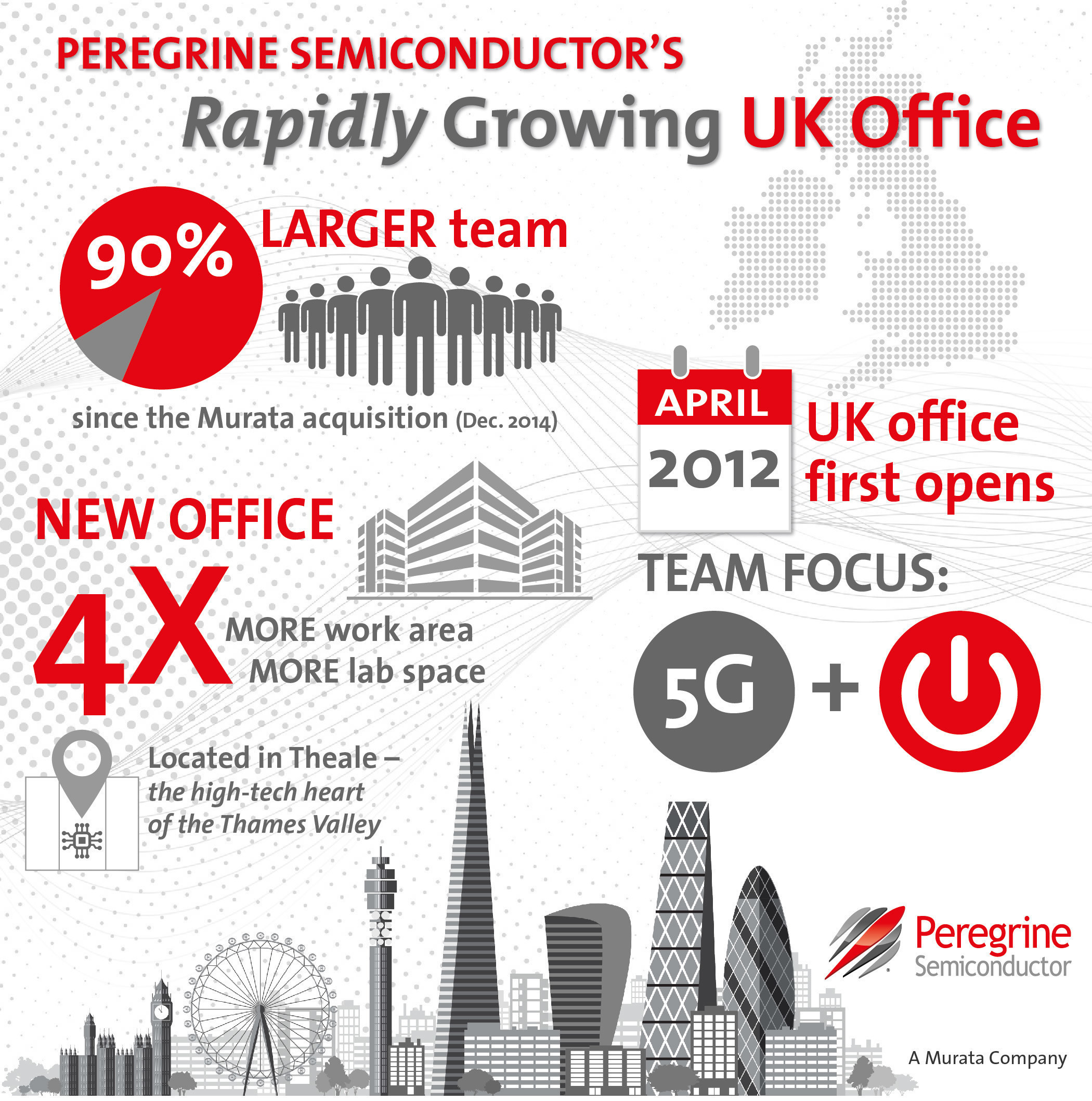 EUROPEAN MICROWAVE WEEK – Peregrine Semiconductor Corp., founder of RF SOI (silicon on insulator) and pioneer of advanced RF solutions, announces the move of its United Kingdom (UK) team into a larger office facility. Located in Theale, this new office quadruples the working area and laboratory space to better accommodate the UK team's 90-percent growth since the Murata acquisition in Dec. 2014.
"Our team had outgrown our old facility—both in seating capacity and in lab space to accommodate new product development—and it was time to move into a larger office," says Mark Moffat, managing director of Peregrine Semiconductor Europe. "Our new 'home' not only better suits our current team, but it has the capacity for our projected growth. With a prime location in the Thames Valley, we are able to tap into the abundance of talent in this region and build a team that is driving Peregrine's growth in areas like 5G and power management."
Peregrine's new UK office is located in the heart of the Thames Valley at 1420 Arlington Business Park in Theale, Berkshire. The 4,600-square-foot office includes two fully equipped laboratories.
A global company, Peregrine's corporate headquarters are in San Diego, Calif. In addition to the Theale office, Peregrine has offices in Arlington Heights, Illinois; Seongnam-si, South Korea; and Shanghai, China.
ABOUT PEREGRINE SEMICONDUCTOR
Peregrine Semiconductor Corporation, a Murata company, is the founder of RF silicon on insulator (SOI) and is a leading fabless provider of high-performance, integrated RF solutions. Since 1988 Peregrine and its founding team have been perfecting UltraCMOS® technology—a patented, advanced form of SOI—to deliver the performance edge needed to solve the RF market's biggest challenges, such as linearity. By delivering best-in-class performance and monolithic integration, Peregrine's product portfolio is the trusted choice for market leaders in automotive, broadband, industrial, Internet of Things, mobile devices, smartphones, space, test-and-measurement equipment and wireless infrastructure. A Murata company since December 2014, Peregrine holds more than 280 issued and pending patents and has shipped over 3.5 billion UltraCMOS units. For more information, visit http://www.psemi.com.