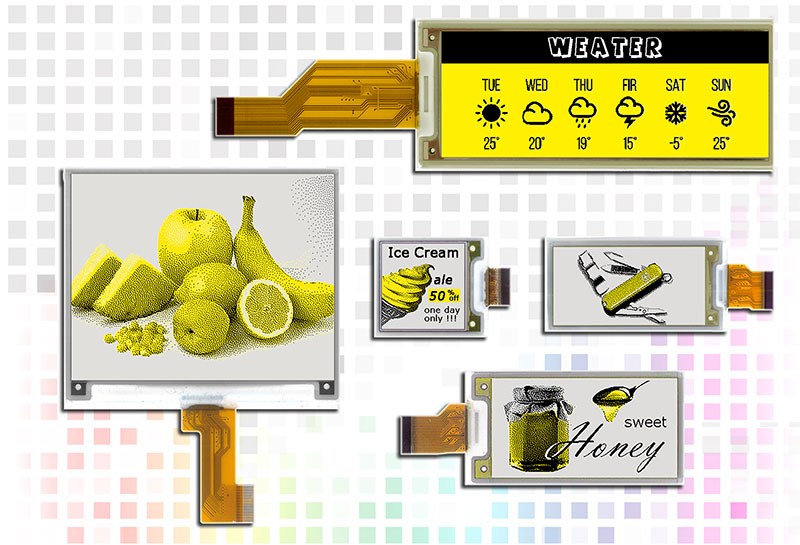 Tainan City, Taiwan – 13 May 2019. Pervasive Displays (PDi), a world leader in e-paper displays, announces its new line of compact black, white and yellow displays. Ranging in size from 1.54 to 4.37-inches, the displays give product and service designers additional flexibility by being able to display text and images in yellow, as well as black and white.
E-paper displays (EPDs), commonly found in e-readers, have been growing in popularity across a range of sectors, thanks to their extremely low power requirements and easy readability in challenging lighting conditions, such as direct sunlight. Increasingly used in retail, logistics, building signage and the IoT, EPDs enable the use of digital displays where these would previously have been impractical or even impossible.
This new line of EPDs opens up fresh opportunities for organizations to enrich their customer experiences. Applications for the yellow tri-color displays include shop shelf labels, where yellow can be used to draw attention to special offers and price reductions. Shipping tags can incorporate yellow to highlight priority items. Corporate identification and access control badges often use one color for employees, another for contractors and another for visitors. EPDs enable these cards to be digitized, to include the person's name and other details, with yellow EPDs used for one group, and black-and-white, or black, white and red EPDs for others.
Available in 1.54, 2.13, 2.66, 4.20 and 4.37-inch models, these active-matrix displays include an internal timing controller (Tcon), which minimizes the amount of programming and peripheral circuitry required. This results in a slimline display unit, and consequently a smaller overall device footprint, or additional space for other components.
The displays' high pixel-density (ranging from 111 to 140 dpi, depending on the screen size) and state-of-the-art driving waveform, deliver exceptional image quality and the ability to display intricate patterns precisely. Meanwhile, because key capabilities are pre-programmed into the display, they can be driven without consuming resource from the host controller.
Alchin Wang, CEO, Pervasive Displays, said: "E-paper displays already enable product and service providers to visually communicate with customers and other users in fresh and innovative ways. Our new product line that displays words and images in yellow, as well as black and white, takes this a step further. It enriches the experience and broadens the range of situations where EPDs are an attractive choice."
"The fact that they only consume energy when updating what's on the display – unlike conventional TFT LCDs, which require a constant current to maintain an image – mean EPDs empower designers to incorporate digital displays in locations where there is no mains power. Indeed, EPDs can be powered solely through harvested energy, meaning batteryless devices with displays are now a reality."
More information about the new yellow tri-color EPDs from Pervasive Displays is available on our website: