PHOTO related to light and photons.
RESISTOR device which resists the flow of current.
PHOTORESISTOR The devices which use input light and change its resistances.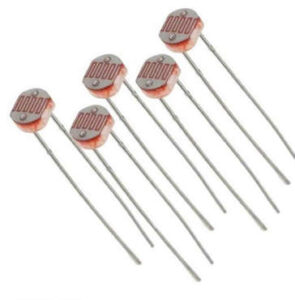 Photoresistors are the passive components that use luminous light to change the resistance and generate electric signals accordingly.

The value of resistance depends on the amount of light falling on it and is inversely proportional to the amount of light i.e, the more the intensity of light less is the less resistance developed.
We can say that Photoresistors are also known as LIGHT DEPENDENT RESISTORS(LDR).
we can say that when high-intensity light is incident of photo resistor it conducts more densely acting as a photoconductor. They are not purely made of semiconductors.
Working of Photoresistor
When the photons fall on the light-sensitive part, the photons help the electrons to move freely and produce current. The more the photons incident more is the current produced and the less the resistance.
The photoresistor is temperature sensitive as well. Firstly, this device is a passive element as it doesn't contain a diode in it.
When we change the amount of light falling on it the resultant resistance varies but even if the constant amount of light is incident on the photoresistor the temperature acts as the stimulant and the resistance still fluctuates.
Its resistance also depends on the wavelength of light as it permits only a particular range of wavelengths of light.
These resistors are used to sense whether there is light or dark in the atmosphere outside and react accordingly.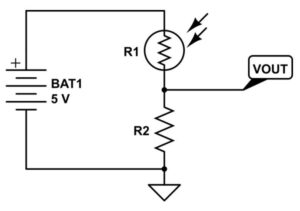 the above circuit can be explained using as Application in ELECTRONIC LETTERBOX
The electronic letter box consists of a photoresistor that detects whether a letter is present in the box or not. when some letter is dropped in the letterbox the photo sensor is blocked and senses darkness then a particular light glowing which indicates that the letter is present in the box.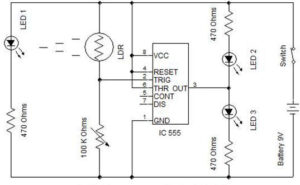 Few Other applications
Solar Panels Here the photoresistors sense the sunlight and allow the flow of current or we can say it generates the current.
Camera Here, the resistor senses the amount of light and accordingly produces an electric signal which results in generating an image.
Robots robots use photoresistors to sense objects and visualize the images by generating an electrical signal from photons.