A sensor that works on the principle of piezoelectricity is known as a piezoelectric sensor.
It is a device that uses the piezoelectric effect to measure changes in pressure, acceleration, temperature, strain, or force by converting them to an electrical charge.
There are various types of piezoelectric materials. Examples of piezoelectric materials are natural available single crystal quartz, bone, etc. Artificially manufactured like PZT ceramic etc.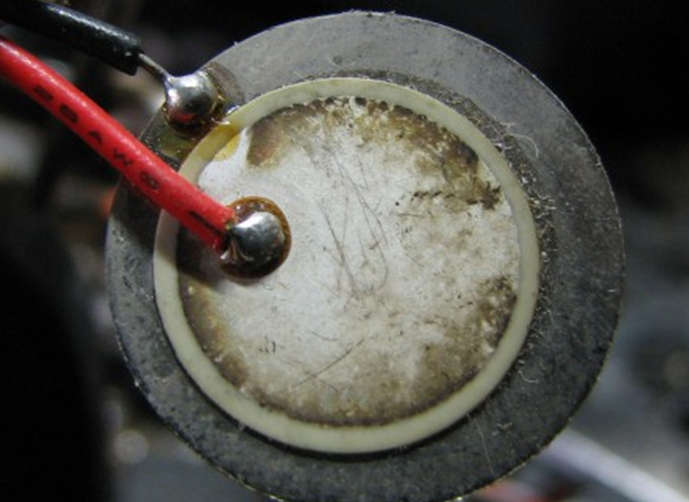 Working of Piezoelectric Sensor
It measured physical quantities by a piezoelectric sensor are Acceleration and Pressure. Both pressure and acceleration sensors work on the same principle of piezoelectricity but the main difference between them is the way force is applied to their sensing element.
In the pressure sensor, a thin membrane is placed on a massive base to transfer the applied force to the piezoelectric element. Upon application of pressure on this thin membrane, the piezoelectric material gets loaded and starts generating electrical voltages. The produced voltage is proportional to the amount of pressure applied.
In accelerometers, seismic mass is attached to the crystal element to transfer the applied force to piezoelectric materials. When motion is applied, the seismic mass load's the piezoelectric material according to Newton's second law of motion. The piezoelectric material generates a charge used for the calibration of motion.
An acceleration compensation element is used along with a pressure sensor as these sensors can pick up unwanted vibrations and show false readings.
Applications of Piezoelectric Sensor
It is used for shock detection.
Active piezoelectric sensors are used for thickness gauge, flow sensor.
Passive piezoelectric sensors are used microphones, accelerometer, musical pickups etc.
It is used for ultrasound imaging.
These sensors are used for optic measurements, micro moving measurements, electro acoustics etc.