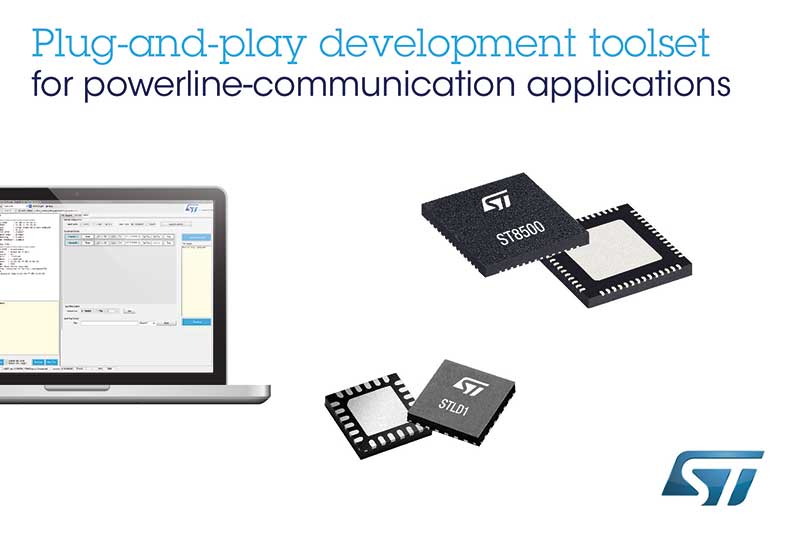 19th  July 2019: A new plug-and-play powerline communication (PLC) development toolset from STMicroelectronics accelerates the development of turn-key powerline networks by providing all the hardware and software components needed to build and run a PLC application.
The new development toolset lets developers connect smart devices using the ST8500/STLD1 chipset –proven in utility-class smart-meter projects — on ST's EVALKITST8500-1 evaluation kit for the ST8500 PLC modem system-on-chip and STLD1 dual line driver.
The set of hardware, software and documentation tools includes the certified protocol stacks for G3-PLC[1] communication in all frequency bands up to 500kHz (CENELEC-A, CENELEC-B and FCC bands certified),  a 6LowPAN adaptation layer for IPv6 that enables scalable networking, and single modem protocol engine and real-time engine firmware images for both PAN coordinator and device nodes. Support for self-adaptive and mesh networking is also provided, allowing use in electrically noisy environments, as well as state-of-the-art AES cryptography engine with up to a 256-bit key to enhance cyber-security.
In addition, the new toolset provides an open-source firmware framework based on the STM32* general-purpose companion microcontroller for the chipset, ready for users to create and integrate their application firmware.
In particular, the STM32 application example includes remote control of indicator LEDs, RTC (Real-Time Clock) configuration, and ping and string data transfers between nodes. The application firmware example implements a UDP/IPv6 protocol on top of the 6LowPAN adaptation layer of the G3-PLC communication layers running on the ST8500.
By also including ST's STSW-SGKITGUI SmartGrid LabTool, a PC-based GUI, the toolset lets users easily configure and control the EVALKITST8500-1 hardware, run application commands, and apply firmware upgrades. Supporting documentation is also provided, including the STM32 Firmware User Manual and G3-PLC Host Interface Driver application note.
Using the new toolset, developers can realize innovative and future-proof products and services particularly suitable for smart home, smart building, smart city, smart infrastructure, and smart energy applications, leveraging ST's long-term commitment to powerline technology and broad product portfolio. The ST8500/STLD1 is the chipset chosen by major smart-grid and IoT corporations for its combination of hardware capabilities, high compute performance, low power consumption, integrated peripherals, and future-proof product support.
The toolset is available now and free to qualified potential customers. Further information is posted at www.st.com/evalkit8500-pr