Connectors and expertise for 'Revolution' race car project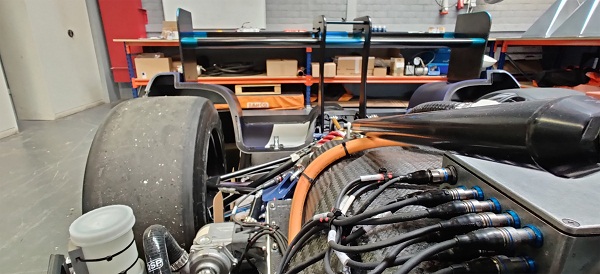 September 2021: Powell Electronics, the supplier of connectors and more for high-rel applications including defence, aerospace and industrial, announces its sponsorship of the InMotion student team of the Eindhoven University of Technology (Netherlands) for the 'Revolution' race car project. InMotion's mission is to make charging an electric car as fast and convenient as refueling a petrol car. The team receives both technical expertise and high-quality connectors from Powell Electronics. The new 'Revolution' race car will be used as a platform to showcase and test InMotion's fast charging technology. Latest test have shown the recharging the car takes only 12 minutes. The 'Revolution' car will be competing in the 24 hours of Le Mans in 2023 as the first fully electric endurance racecar.
Remarks Gary Evans, European MD of Powell Electronics: "We really like InMotion's 'Revolution' race car project and are very happy to sponsor it". "Charging times are one of the key problems that still keeps people from using an electric vehicle and we hope InMotion will be successful with their current project and that it will bring them a step closer to achieving their main goal", he adds.
Comments Rainier Heijne, Team Manager of the InMotion student team: "Without the sponsorship of companies like Powell Electronics a project like our 'Revolution' race car wouldn't be possible. We are very grateful for Powell's outstanding financial and technical support".
For further information about Powell Electronics please visit: www.powell-electronics.eu
For project design or procurement support please contact: Europe@powell.com
For further information about InMotion please visit: https://www.inmotion.tue.nl/en/home