A Radio frequency identification reader (RFID reader) is a device used to gather information from the RFID tag which is used to track the individual object. Radio waves are used to transfer data from the tag to a reader. RFID is a technology that is similar in theory to bar codes. However, the RFID tag does not have to be scanned directly nor it does require a line of sight to a reader. Thus the RFID Tag must be within the range of an RFID reader which ranges from 3 to 300 feet to be read. RFID technology allows several things to be quickly scanned and enables fast identification of a particular product, even when it is surrounded by several other items. RFID tags have not replaced bar codes because of their cost and the need to individual identifies every item.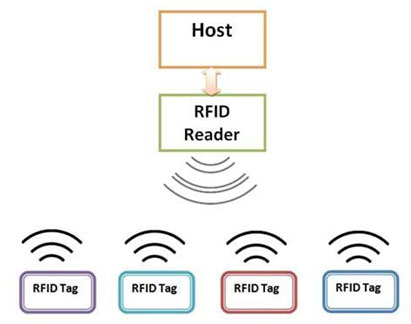 Application                
Password
Smart cards
Airplane luggage
Toll booth passes
Home appliances
Animal and pet tags
Automobile key and lock
Monitoring heart patients
Pallet tracking for inventory
Telephone and computer network
Operation of spacecraft and satellites
RFID technology uses digital data in an RFID tag which is made up of integrated circuits containing a tiny antenna for transferring information to an RFID transceiver. The majority of RFID tag contains at least an integration circuit for modulating and demodulating radio frequency and an antenna for transmitting and receiving signals. Frequency ranges vary from low frequencies of 125 kHz to 134 kHz and 140 to 148.5 kHz and high frequencies of 850 to 950 MHZ and 2.4 to 2.5 GHz. Wavelengths in the 2.4 GHz range are limited because they can be absorbed by the water.