Several New AI Solutions Spanning Industrial, HVAC and Automotive Applications Will be Showcased at Sensors Converge Tradeshow June 20-22 in Santa Clara, Calif.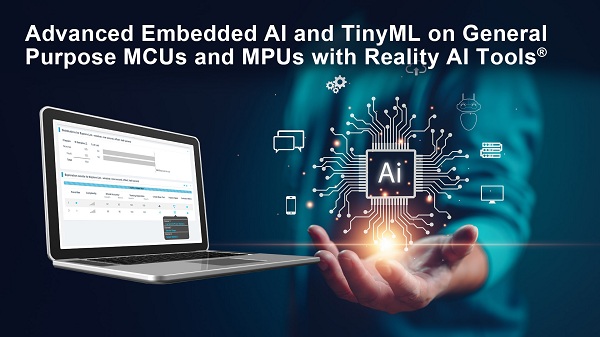 TOKYO, Japan, June 15, 2023 ― Renesas Electronics Corporation (TSE: 6723), a premier supplier of advanced semiconductor solutions, today provided an update on its progress in providing artificial intelligence (AI) and tiny machine learning (TinyML) solutions one year after announcing its acquisition of Reality Analytics, Inc. (Reality AI), a leading embedded AI provider.
On June 9, 2022, Renesas announced that it was acquiring Reality AI in an all-cash transaction. Reality AI's wide range of embedded AI and TinyML solutions for advanced non-visual sensing in automotive, industrial and commercial products fit well with Renesas' embedded processing and IoT offerings. They provide machine learning with advanced signal processing math, delivering fast, efficient machine learning inference that fits on small MCUs and more powerful MPUs. With Reality AI Tools®, a software environment built to support the full product development lifecycle, users can automatically explore sensor data and generate optimized models. Reality AI Tools contains analytics to find the best sensor or combination of sensors, locations for sensor placement, and automatic generation of component specs and includes fully explainable model functions in terms of time/frequency domains.
In just one year since the announcement, Renesas has delivered a wide range of solutions based on Reality AI technology. The following products will be presented at Renesas' Booth #945 at the Sensors Converge Tradeshow, June 20-22 at the Santa Clara Convention Center:
Reality AI Tools is now tightly integrated with Renesas compute products and supports all Renesas MCUs and MPUs natively with a built-in parts picker engine. Support for automatic context switching between Reality AI Tools and e2Studio, Renesas flagship embedded development environment, is also in place.
RealityCheck™ Motor Toolbox, an advanced machine learning software toolbox, uses electrical information from the motor control process to enable the development of predictive maintenance, anomaly detection, and smart control feedback – all without the need for additional sensors. It enables early detection of small fluctuations in system parameters that indicate maintenance issues and anomalies, reducing downtime. The software works seamlessly with Renesas MCUs, MPUs, and motor control kits and is fully integrated with Reality AI Tools to create, validate, and deploy sensor classification or prediction models at scale. This functionality is a toolchain built with predictive models that can be easily accessed out of the box by using the Reality AI toolchains for developers.
RealityCheck™ HVAC Solution Suite is a vertically integrated solution suite for the HVAC industry. This solution is a comprehensive framework that includes a hardware and firmware reference design, a set of pre-trained ML models ready to leverage for product design, and a clearly outlined process for model training, customization, and field testing to meet specific product requirements. This advancement has significantly improved the efficiency of HVAC systems.
Automotive SWS Solution Suite uniquely combines both hardware and software to give passengers a new level of protection. The suite comes with a MEMS microphone array integrated into components or placed on the roof. Flexible geometry automotive MCUs run AI detection and localization software on inexpensive hardware. AI models detect and classify different threats accurately at 1.5km distance for sirens, 35m+ for cars, trucks, and motorcycles, and 10m for bicycles and joggers. Localization is provided through AI models that compute the angle of arrival, estimate distance, and detect whether threats are approaching or receding.
Customers in a wide range of industries have adopted Renesas AI solutions for a variety of applications. For example, ITT Goulds Pumps Inc. is implementing data analytics using Renesas AI technology. Brad DeCook, R&D Director, Monitoring and Controls for the company, said "The unique capabilities of the Renesas AI technology enabled us to develop machine diagnostics that effectively identify equipment faults caused by high vibration and temperature."
"We believe the convergence of AI and IoT is creating a significant inflection point as customers increasingly move intelligence to the endpoint," said Sailesh Chittipeddi, Executive Vice President and General Manager of Renesas' Embedded Processing, Digital Power and Signal Chain Solutions Group. "The addition of the unique and powerful technology from Reality AI into our portfolio enables our customers to process and react to information faster, more accurately, and with fewer compute and power resources than ever before."
Winning Combinations
Renesas has combined its AI technology into numerous Winning Combinations across automotive, industrial, and IoT applications. Two solution examples that benefit from Reality AI technology are Vibration Sensing for Motor Control and Highly Efficient and Cost-optimized Smart Heat Pump. These Winning Combinations highlight applications where Reality AI technology can enable intelligence to detect motor anomalies for preventative maintenance, which can provide customers with significant savings in repair costs. Winning Combinations are technically vetted system architectures from mutually compatible devices that work together seamlessly to bring an optimized low-risk design for a faster time to market. Renesas offers more than 400 Winning Combinations with a wide range of products from the Renesas portfolio to enable customers to speed up the design process and bring their products to market more quickly. They can be found at renesas.com/win.
More Information
More information about Renesas' AI solutions is available at renesas.com/reality-ai.