ROHM has developed a new Wi-SUN FAN (Field Area Network) module for infrastructure applications, capable of connecting up to 1,000 nodes in a mesh network.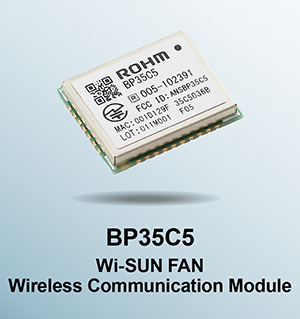 Wi-SUN FAN the latest Wi-SUN international wireless communication standard, which eliminates the communication costs associated with conventional LPWA (Low-Power Wide-Area) wireless standards. At the same time, Wi-SUN ensures superior reliability through multi-hop networks that automatically switches destinations after signal verification. As such, this communication technology is expected to see widespread use in large-scale mesh networks for smart cities and smart grids.
In recent years, wireless technologies such as LPWA are being increasingly adopted in social infrastructure applications to configure large-scale area outdoor networks. However, conventional LPWA protocols (e.g., Sigfox, LoRaWAN, NB-IoT) are vulnerable to changes in the surrounding environment (i.e., new building developments), making them susceptible to problems, including decreased communication speeds and communication failures.
In response to these challenges, ROHM developed the BP35C5, an in-house ultra-small (15.0mm × 19.0mm size) Wi-SUN FAN module. This solution can connect with up to 1,000 devices (e.g., traffic signals and streetlights), enabling the configuration of a remote wireless management system covering an entire city. The BP35C5 also includes the necessary security functions for carrying out secure communication without the need for complicated control. Certifications acquired under the FCC (Federal Communications Commission) and ARIB (Association of Radio Industries and Business) allow for immediate use both in the US and Japan. Other countries and regions will be supported in the near future.
The BP35C5 module and BP35C5-T01 evaluation board will be available for purchase in mid-February 2021 through online distributors Digi-Key and Mouser. Various documents and user guides are now available on ROHM's website.