Compact reference design offers greater than 94 percent efficiency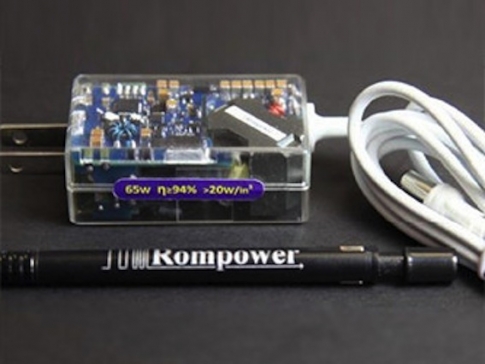 Rompower Energy Systems, a US research and development company focused on power conversion, has announced technology for an extremely small, highly efficient AC/DC power adapter, based on eGaN FETs from EPC.
The reference design measures 3.19 cubic inches (52.27cm3) in size and provides 65W of power at greater than 94 percent efficiency over the entire input voltage range (90 Vac to 264 Vac).
The adapter has a power density of 20 W/in3 (1.22W/cm3). This high efficiency means that the device runs cooler than standard AC/DC adapters.
At the core of this adapter is a synchronous rectifier circuit using 150V, 7mΩ EPC2033 eGaN FETs from EPC.
In this power conversion application, the eGaN FETs provide an 80 percent reduction in the driving power, a 25 percent reduction in on resistance, and 5 percent less power dissipation all in a very small package.
According to Ionel 'Dan' Jitaru, founder and president of Rompower: "We are quite proud to have made this breakthrough in size and performance for such an important product, the AC/DC adaptor. With its small size, it will ease the burden of users having to carry a large, clumsy adapter, while enjoying its energy savings and high efficiency."
Alex Lidow, CEO and co-founder of EPC, commented that: "It is well known in the industry that due to its superior performance at lower costs, GaN is now the material of choice where small size and high performance are essential. This is certainly the case in the highly efficient, extremely small Rompower AC/DC adapter. This innovative reference design, using GaN devices, will become an industry benchmark for its small size and high performance."