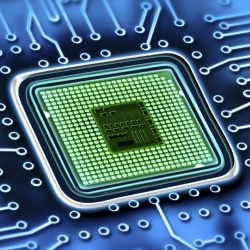 Samsung and Apple make the most money selling computers of different shapes and sizes, so it's no surprise the two gobbled up a significant share of the global semiconductor chip market – for the sixth consecutive year, no less.
According to stats published by Gartner, the two spent a combined $61.7 billion (up $400 million from 2015) and bought 18.2% of the world's semiconductor chips in 2016. Principal research analyst Masatsune Yamaji commented that Samsung and Apple "continue to exert considerable influence on technology and price trends for the wider semiconductor industry, (but) their impact has lessened due to falling expectations for future growth."
The world's top-ten chip buyers rank consists of four US companies, three Chinese companies, two South Korean companies, and a Japanese one. 2016 saw Cisco Systems drop out from the Top 10, replaced by China's BBK Electronics – owner of smartphone makers Oppo, Vivo, and OnePlus.