Samsung Electronics Co. has accelerated its sub-10 nanometer chip roadmap as it has become more hopeful of reclaiming orders for mobile processing chips from Apple Inc. by fielding 7nm process node using extreme ultraviolet (EUV) patterning technology it has perfected through a decade of development.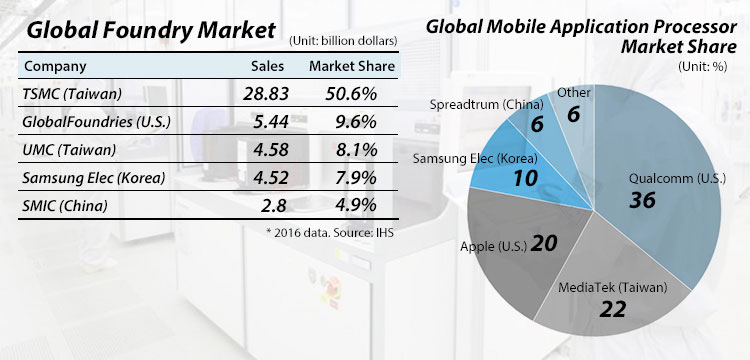 The world's largest semiconductor maker, which recently spun off consignment production operation to better pose as a formidable rival to the world's top pure-play foundry Taiwan Semiconductor Manufacturing Company (TSMC), has beefed up investment, capacity, and marketing endeavors after suffering major setbacks from the Taiwanese maker that has been moving faster in 7nm and lower chipmaking process.
In June, Qualcomm, Samsung Electronics' biggest customer whose orders in 10nm chips take up 40 percent of its 5 trillion won ($4.4 billion) consignment revenue, tapped TSMC to supply 7nm chips. Earlier, another major customer Apple gave its entire chip orders to TSMC that it used to split between the Taiwanese foundry and Samsung until 2012.
Since then Samsung Electronics has invested heavily to perfect the ultra-fine technology and manufacturing environment in sub-10nm process. It pledged 6 trillion won in Hwaseung plant to ready 7nm production lines based on EUV technology. TSMC currently makes 7nm chips with immersion equipment and plans to deploy EUV from 5-nm process.
Samsung advanced import of the EUV equipment after it gained positive response from Apple to consider using the Korean chips for the new iPhone and iPad series for next year during a visit by Kwon Oh-hyun, vice chairman and chief executive of Samsung Electronics, early last month.
The chipmaker promised to deliver the prototypes to Apple in the first quarter and would be ready for mass production in the second quarter. Apple's orders chips worth more than 5 trillion won a year to power its mobile devices.
The foundry market has been expanding fast due to broadening applications and demand for multi-functional chips.
The market size is estimated at $61 billion this year and projected to grow 7-8 percent annually to reach $76.6 billion by 2020. The dominant market leader is Taiwan's TSMC with a share of 50.6 percent, followed by U.S.-based GlobalFoundries at 9.6 percent and Taiwan-based UMC at 8.1 percent. Samsung Electronics stands fourth at 7.9 percent.
At 1:50 p.m., shares of Samsung Electronics were 2,536,000 won, up 4,000 won or 0.16 percent from the previous session.