Samsung Electronics is accelerating the expansion of Pyeongtaek Line 1, the world's largest two-layer semiconductor plant, showing its will to solidify its number-one position in the global semiconductor industry by absorbing the world's demand for NAND flash. Samsung Electronics, which overtook Intel for the first time in its history in the second quarter of this year, is accelerating the construction of its "semiconductor empire" by strengthening its memory and foundry business.
In particular, Pyeongtaek Line 1 is where Samsung Semiconductor's advanced mass-production technology is applied, and 4G 3D NAND flash memories will be intensively produced. It is said that Samsung Electronics's rivals have not secured stable yields in the 4G 3D flash memory business. It is forecast that Samsung Semiconductor capable of producing the most efficient NAND flashes will be able to further cement its position as server companies around the world are changing their storage devices from hard disks to solid state drives (SSDs) using NAND flashes and the electronics industry's paradigm shifts completely from PCs to mobile devices.
"The equipment industry has been very busy with an order for equipment for the expansion to build the second floor of the Samsung Pyeongtaek Line 1 by March next year," said a representative of the semiconductor equipment industry on July 16. "This hints at Samsung Electronics's will to rapidly increase NAND production in Pyeongtaek Line 1."
In addition to Samsung Electronics, Toshiba and SK Hynix are producing 3D NAND, but they are not meeting demand for 3D NAND flashes by global information technology (IT) companies. NAND flash producers are limited, and companies that mass-produce 4G 3D NAND are more limited. It is reported that a recent shortage of 3D NAND flashes compelled Apple to urgently requested Samsung Electronics to supply 3D NAND flashes for the iPhone 8 to Apple.
"It seems that Apple hastily placed an order with Samsung as Apple received only about 70 percent of its desired volume from Toshiba which is a major supplier for Apple," said a representative of the semiconductor industry. "Samsung Electronics has mass-producing 4th generation 3D NAND since the end of last year. If Samsung Electronics began to go ahead with massive volume by making a quick investment in additional facilities, its competitors will hardly catch up with Samsung Electronics." The world is going through a shortage of 3D NAND flashes due to a large increase in the storage capacities of mobile devices and a surge in demand for SSDs from server makers.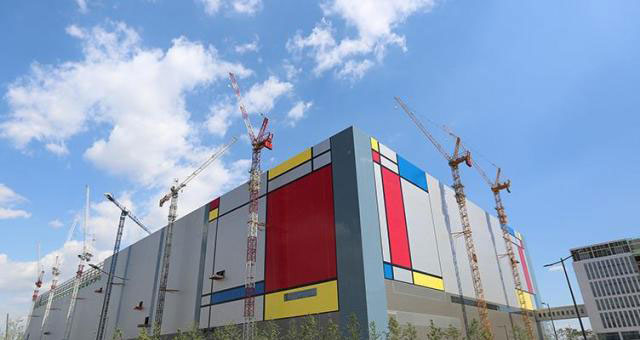 It is also said that Samsung's super-speedy expansion of the Pyeongtaek Line 1 is a repeat of its winning strategy that resulted in its victory in a chicken game through preemptive investment in the DRAM market. In the 1990s, Samsung Electronics intensively invested DRAMs during the DRAM War of global semiconductor companies and became the final winner of the chicken game.
According to market researcher IHS Markit, total NAND flash sales are projected to increase more than 7% between 2016 and 2021 as server NAND flash demand will soar. As the number one company in the NAND flash market, Samsung is ahead of its competitors by one to two years. This means that the time is right for Samsung Electronics's preemptive investment.
As memory chips produced by Chinese semiconductor makers are expected to come out in the market in 2018, Samsung's super-speedy ​​investment is interpreted as a super-gap strategy that will surely widen the gap with Chinese NAND makers as well as current NAND market players.
On the other hand, as Samsung Electronics is rapidly expanding its Pyeongtaek Line 1, it is expected that investment in the Hwaseong plant and construction of an additional production line in Xian, China will gain momentum. The semiconductor giant announced plans to invest KRW 37 trillion won in the Pyeongtaek Line 1 including investment of KRW 6 trillion in the Hwaseong site to build a new line optimized for advanced infrastructure such as extreme ultraviolet (EUV). The volume of the investment in the construction of an additional production line in Xian, China was not disclosed but it is expected that at least 8 trillion won will be invested in consideration of the amount of investment in Xian Line 1.