City building reputation as global semiconductor base
Construction of the second phase of Samsung's memory chip facility in Northwest China's Shaanxi Province has started, and it is expected to help Xi'an forge an industrial cluster worth billions of yuan and cement the city's position as a global semiconductor industrial base.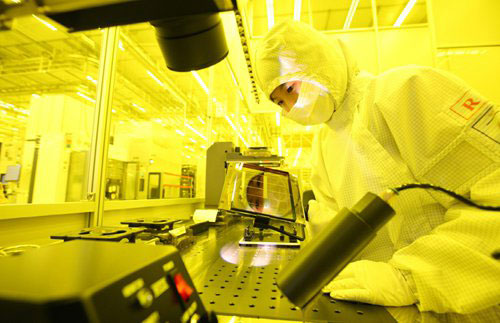 Located within Samsung's factory in the Xi'an Hi-tech Industries Development Zone, construction equipment is being erected for the second phase of the facility.
"The new facility is scheduled to be put into operation in 2019 and will be used for mass production of V-NAND flash memory," Samsung Electronics Co told the Global Times.
The V-NAND is a type of flash memory with a very high speed.
Samsung announced in late August that it would invest an additional $7 billion to build a second phase for its memory chip plant in Xi'an, despite cooling economic activities between China and South Korea following the deployment of the Terminal High-Altitude Area Defense (THAAD) anti-missile system in South Korea.
In September, South Korean industry news site etnews.com reported that the South Korean government was planning to stop the country's semiconductor and display producers from establishing facilities in China.
South Korea's Minister of Trade, Industry and Energy Baek Woon-kyu asked Samsung Electronics to reconsider its investment plan in Xi'an during a meeting with major executives from the country's semiconductor and display industry on September 18, the report said.
Samsung's existing semiconductor production lines in Xi'an are operating at full capacity but still can't meet the surging demand, according to Samsung.
Data from Samsung showed that China's demand for memory chips has accounted for 58 percent of the global total in 2017, and it predicted the country's demand will continue to grow.
Massive demand in China
"Given China's growing demand for memory chips along with the growing interest in areas such as artificial intelligence (AI), smartphones and corporate-level memory chips, increasing investment in China will help promote Samsung's semiconductor business," Liu Kun, vice general manager of the IC Industry Research Center at CCID Consulting, told the Global Times on Wednesday.
Samsung Electronics registered significant earnings growth in the third quarter ended on September 30, with revenue of 19.91 trillion won ($17.89 billion), according to a statement on the company's website in October.
As many electronic device manufacturers are located in China, setting up facilities in the country will be convenient for the company to serve its clients, according to Samsung China Semiconductor.
In fact, the semiconductors made by Samsung also help improve the competitiveness of domestic high-end smartphones, which generally use chips manufactured by Samsung, Liu said.
Meanwhile, the presence of top South Korean semiconductor firms also has a positive influence on the formation of the domestic semiconductor industry, Wang Yanhui, head of the Shanghai-based Mobile China Alliance, told the Global Times on Wednesday.
Chip industry base
In recent years, leading companies such as Samsung, US firm Micron Technology, and domestic giants Huawei Technologies Inc and ZTE Corp have increased their investment in Xi'an.
Samsung's $7 billion deal further indicates the region's international competiveness and will cement Xi'an's role as a global semiconductor industry base, according to a statement on the website of the Xi'an Comprehensive Free Trade Zone.
The second phase of the Samsung project in Xi'an will drive the fast development of the information industry in western China and boost the establishment of the national information industry base in the area, according to Samsung.
Following Samsung's entry into Xi'an, the project has drawn more than 100 supporting companies to the area. As Samsung's manufacturing technology is globally recognized, it boosts the standing of the related firms as well, thus helping the Xi'an semiconductor industry's international development, Ju Meiru, an official with the Xi'an Comprehensive Free Trade Zone, was quoted as saying in a document sent to the Global Times.
For example, the machines used by Samsung in Xi'an were all imported when the company first started operating there, but now they use domestic machines such as those from a semiconductor equipment firm in Shanghai, according to Ju.
Samsung invested in the first phase of its memory chip project in Xi'an in 2012. Worth $10 billion, it became the biggest foreign-funded project in China's electronic information industry since the country's reform and opening-up policy started in the late 1970s.