HONG KONG – The Samsung brand is best known for its smartphones and wide-screen TVs. Yet behind the scenes the conglomerate is also making a name as a contract manufacturer of complex medicines to treat diseases like cancer.
On a piece of reclaimed land along the western coast of South Korea, Samsung BioLogics Co. is building a $740 million factory that will give it the capacity to become the No. 1 producer by volume of a class of drugs called biologics, many of which are derived from mammal cells.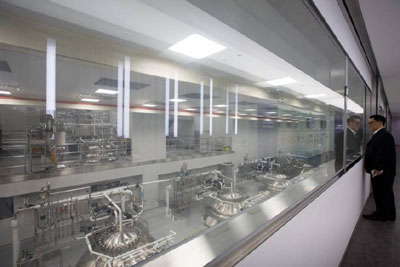 The Samsung group diversified into the pharmaceutical sector in 2011. Now, it's mobilizing its expertise in semiconductor making and engineering know-how to make the way biologics are produced on behalf of Big Pharma more efficient. The market for biologic medicines, which are used for everything from cancer to arthritis, is projected to exceed $223.7 billion by 2021, according to a Bloomberg Intelligence analysis.
Being a force in biologics is crucial to Samsung — and South Korea. Galaxy smartphones and other consumer electronics face intense competition from Apple Inc. and Chinese brands such as Huawei Technologies Co., and the chaebol is grappling with the arrest of de facto leader Jay Y. Lee in a scandal that brought down the country's former president.
Meanwhile, the broader economy needs new industries as shipbuilding and heavy manufacturing slow.
If the past 40 years of global economic growth were fueled by technology, said Kim Tae-han, chief executive officer of Samsung BioLogics, the next will be fueled by where that converges with health care.
In an interview at company headquarters in Incheon, Kim said he is preparing to ramp up production and is in negotiations for more than 15 new contracts. The Samsung board gave him the green light and $2 billion to start the business about six years ago. Yet, on the strength of demand and business performance, "I've already spent $3 billion!" Kim said. Sales totaled 107.6 billion won ($95.8 billion) in the first quarter, a 2.1 percent increase from a year earlier, though the unit still posted a net loss.
More than 2,000 construction workers — most with experience building semiconductor facilities — are buzzing around the factory site about an hour's drive from Seoul. It is called Edison and is the company's third drug facility. It can accommodate custom-made vats that are so big some shoot through several floors.
Biologic drugs are grown from cells. That necessitates a more complex manufacturing process than typical pills — a mixture of chemicals — but makes biologics more effective and capable of being targeted toward certain diseases.
Building a biologic plant is similar to one for semiconductors. There are clean rooms that cannot tolerate dust or other contamination, so Edison is being built without nuts or bolts to prevent any drilling. As such, everything is welded and tilted to fit together. One day, Kim said, "contract manufacturing" could extend to helping clients build the factories.
"We know how to optimize that process," Kim said, citing the experience in semiconductors. "We could be competitive in quality, speed and cost."
Samsung already is a contract manufacturer for some blockbuster drugs, including for Switzerland's Roche Holding AG and the U.S.'s Bristol-Myers Squibb Co. It will take three years for the plant to ramp up to full capacity after being completed this year and opening at the end of 2018, Kim said.
At its Incheon facilities, staff are on site 24 hours a day to ensure continuity: Researchers in white smocks spend the day monitoring the production process, checking on centrifuges or poring over data on computer monitors.
English is the working language and some are alums of Genentech Inc. or Amgen Inc., the U.S.-based biotechnology giants. It has 1,700 employees, and their average age is 28, the youngest in the Samsung affiliates.
Globally, the drug industry produces 4 million liters of biologic drugs a year, and that's projected to double by 2030, Kim said. With its new plant, Samsung BioLogics is positioning itself to double its market share. Shares are up 24 percent this year, compared with a 13 percent increase in the benchmark Kospi index.
Kim's company faces some formidable competitors, who are also expanding. Switzerland's Lonza Group AG and Germany's Boehringer Ingelheim GmbH have long histories in the biologics contract manufacturing business, and Fujifilm Holdings Corp. also entered the business.
"We are aware of expansions and further investments in mammalian cell culture capacities by Big Pharma and contract manufacturers worldwide," Boehringer Ingelheim said in a statement. It's investing almost €700 million ($767 million) to build a production facility in Vienna that will create about 500 jobs, the company said in an email.
Fujifilm is investing ¥14 billion to accelerate its drug-manufacturing capacity in the U.S. and U.K., it said in April.
Through subsidiary Fujifilm Diosynth Biotechnologies, it's targeting revenue of ¥100 billion for the contract development and manufacturing business by March 2024, it said in an email. Lonza declined to comment.
Kim was tasked with finding new industries for Samsung in 2007. He spent three years overseeing a team studying as many as 60 growth sectors that Samsung could veer into, including electric cars.
It took him three years to convince the group's board it was worth the gamble to pivot into making drugs. One big supporter was Lee, who remains in police custody. While ongoing projects haven't been affected by Lee's detention, some long-term strategic projects were put on hold, Kim said.
One accusation against Lee is that he sought the former president's help in restructuring Samsung affiliates and getting Samsung BioLogics listed on the Korean exchange last year. Lee and the company deny the allegations.
Adding to the pressure, the country's Financial Supervisory Service is auditing Samsung BioLogics. Kim said he was confident in the bookkeeping standards.
Samsung and other companies in the sector have benefited from the Korean government's support of biopharmaceutical businesses. The Incheon Free Economic Zone offered Samsung BioLogics the factory land for 50 years without rent, the company said.
New President Moon Jae-in railed against the chaebol during his campaign, but Samsung said in an email it expects him to boost the biopharmaceutical and health care industries.
"The government has been pushing for this for a few decades, but we are at the very beginning," said Laura Nelson Carney, a senior analyst for Sanford C. Bernstein.
The government has been helpful in funding a lot of basic research, changing listing requirements to make it easier for emerging biotechnology companies to raise money in public markets and pushing for favorable technology-transfer rules, Carney said.
Samsung isn't the only player in its home market. A slew of other companies have also been making steady headway on the international biologics drug scene — either by contract manufacturing or by developing their own biosimilars, which are generic versions of biologic drugs.
One is Incheon-based Celltrion Inc., which made waves in the pharmaceutical world by receiving a slew of international regulatory approvals for its biosimilars.
For Rensima, a cheaper copy of Johnson & Johnson's arthritis drug Remicade, it claimed 30 percent of the market share in Europe since receiving regulatory approval last year, Kim Ho-ung, head of the strategy and operations division for Celltrion Healthcare, said in an April 18 interview.
Still, Samsung's deep pockets and ability to throw money at building its presence in a new industry remain a big advantage.
Increased pressure for Big Pharma to cut costs is one driving factor for why it might outsource to a company like Samsung BioLogics rather than make drugs in-house, Kim said.
Meanwhile, the industry is graduating from using surgical and chemical ways of treating diseases, with many of the new medicines in development of the biologic or cell-based variety. In 2015, six of the world's 10 best-selling drugs were biologics, including Remicade and Sanofi's Lantus for diabetes, according to researcher IMS.
Kim's modeled his aspirations on the trajectory followed by the chips industry. His benchmark is Taiwan Semiconductor Manufacturing Co., which entered the contract manufacturing market when no one was outsourcing and now is the largest chip-set maker for iPhones.
"We want to be a global top player in whatever industry we enter," Kim said. "By 2030, we would like to regarded as one of the global leaders in biopharmaceuticals."