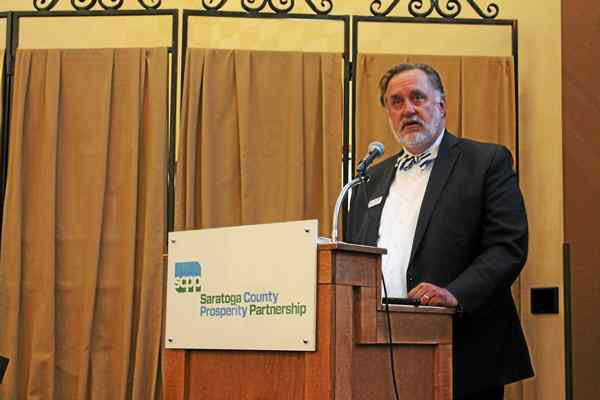 MALTA, N.Y.>> Saratoga County Prosperity Partnership was selling Saratoga County at SEMICON West 2017 in San Francisco last week.
SEMICON, one of the world's largest semiconductor trade show and conference, is put on every July by a San Jose-based company called Semi.
"They have a number of conferences throughout the world, but this is kind of the mother ship of all conferences when it comes to the semiconductor supply industry and some of the large producers of semiconductor chips," said Marty Vanags, the partnership's president. "We're out here working the show, as they say."
The objective of the trip was to sell Saratoga County to potential businesses. Vanags has attended similar economic developments conferences for over 25 years. Saratoga County Prosperity Partnership has attended the last three SEMICON West conferences. It's opportunity to meet one-on-one with companies.
"I've always found that the best impact that we can have as an organization in order to carry out our vision which is to create jobs and capital investment in Saratoga County is to meet one-on-one with companies that are interested in potentially investing in and expanding in our area, so who are those companies?" said Vanags. "So we identify a number of different companies who are suppliers of either tools, which are the machines that make the semiconductor chips or suppliers of raw materials to the semiconductor plant."
Before the conference begins, the partnership identifies potential companies. Vanags and director of business retention & expansion Shelby Schneider then met with 10-12 companies during the three-day conference in hopes of building a relationship that leads to investment, job creation and capital investment in Saratoga County.
A big talking point for Vanags and Schneider during the meeting dealt with the Next Wave Center.
"It's a facility that suppliers, tool makers on one hand could locate on short-term basis and grow at least initially and then expand in other facilities in Saratoga County, so we're testing the waters in that regard, and so far everybody we've talked to has said 'yeah, we're interested in that type of concept' where they can come in, locate on a short-term basis and then move into more permanent facilities," said Vanags. "That's really exciting to hear people showing interest in that. One of our goals out here is to test the validity, test the waters when it comes to the idea of building the Next Wave Center."
One of the keynote speakers on Tuesday, the first day of the conference, was Thomas Caulfield of GLOBALFOUNDRIES.
"He gave a really great presentation on GLOBALFOUNDRIES, the future of semiconductors and he also had great things to say about Saratoga County, the state of New York and the investment that they've made to get GLOBALFOUNDRIES there and up and operated," said Vanags. "He was talking about public-private partnerships."
Vanags said SEMICON serves as a positive for the Saratoga County Prosperity Partnership.
"The industry right now is really excited about what they call IOT (internet of things). They are very excited about the automated cars, and just the next opportunity of growth in semiconductor field and we hope that we can capture some of that potential as we talk to them and bring some of those jobs and that growth to the community," said Vanags. "Whether it's global growing, or whether it's new companies that come in and help support them. We want to be apart of that, so that's what we're really trying to accomplish out here."