Silicon Labs, a leader in secure, intelligent wireless technology for a more connected world, has announced the availability of BG24 and MG24 families of 2.4 GHz wireless SoCs to the market and help customers and partners bring Matter, AI/ML, and innovation to IoT. This new co-optimized hardware and software platform will help bring AI/ML applications and wireless high performance to battery-powered edge devices. Matter-ready, the ultra-low-power BG24 and MG24 families support multiple wireless protocols and incorporate PSA Level 3 Secure Vault™ protection, ideal for diverse smart home, medical and industrial applications.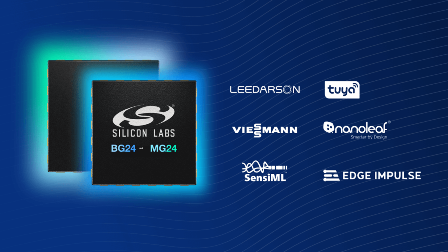 Earlier this year, Silicon Labs announced new families of SoCs with a focus on Matter, AI and machine learning (ML), multiprotocol wireless, and Bluetooth: the BG24 and MG24. The reactions we received to the announcement were exceedingly positive, with many voices echoing TECHnalysis analyst Bob O'Donnell that when it comes to developing SoCs ready for the complexity of Matter and AI/ML, we've got this "pretty much nailed."
Today, to celebrate the general availability of the BG24 and MG24 SoCs, we're sharing testimonials from some of the 50+ worldwide customers and partners who participated in our Alpha program, along with some more detailed case studies so you can learn more.
Viessmann is a global leader in heating and refrigeration systems with a company heritage that dates back more than a century. As they look to grow, environmentalism and sustainability for their products have become a major imperative, along with making sure their products can evolve with changing and growing connectivity standards. To meet these needs, Viessmann has begun integrating the MG24 into its portfolio. Viessmann selected the MG24 due to its low current consumption, which makes it possible to introduce battery-powered heating and refrigeration products, along with providing more flexibility to its customers without introducing the burden of frequent battery replacement. Read more about Viessmann's implementation of the MG24 here.
LEEDARSON specializes in the R&D and manufacturing of smart home devices to design, build, test, and deliver solutions that help consumers experience the incredible potential of the IoT. Part of the company's mission is to help realize a connected, more intelligent world. For this reason, LEEDARSON has been an enthusiastic driver of the Matter standard. Fortunately for LEEDARSON, the MG24 SoC is designed specifically to support the Matter standard and features the performance, security, and memory requirements LEEDARSON was looking for in an IC. By developing applications based on the MG24, LEEDARSON and their customers can take advantage of interoperability with confidence that a single application can scale across projects. Read more about how LEEDARSON will use the MG24 to support Matter.
Tuya Smart's mission is to build an IoT developer ecosystem, enabling everything to be smart. To that end, they created the Tuya IoT Development Platform, which has accumulated over 510,000 registered developers from over 200 countries and regions. Smart devices powered by Tuya are sold through 100,000 online and offline sales channels worldwide. In selecting the MG24 to be part of the Tuya platform, the company looked at three characteristics. First, it had to have enough computing capability and RAM to manage the sophisticated systems the company is helping its customers build. Second, Tuya needed a variety of available I/O to build more types of IoT devices. Finally, Tuya prefers chips that support Matter in order to enable its customers seamlessly join in the new smart home connectivity standard. As the company develops new Zigbee solutions for its developer customers, the MG24 came along at the right time to deliver a Matter solution with the computing power needed to keep features locally and prevent having to rely on gateways or other devices to perform real-time tasks in the cloud. Read more about Tuya's plans to empower IoT developers with the MG24.
Nanoleaf is a technology and IoT company changing the world with the most innovative smart home solutions, taking ordinary experiences, and making them extraordinary. With a commitment to creating the most reliable and accessible smart home experience for users, Nanoleaf prioritizes interoperability and future-thinking technology in all of their products. With the MG24 series, Nanoleaf is able to lead the way for the new Matter standard to create a unified smart home rooted in open communication and flexibility for their customers. Read more about Nanoleaf's plans with Matter.
Throughout the development of the MG24 and BG24 devices, SensiML worked closely with Silicon Labs, building upon SensiML's existing AI tools to harness the latest AI/ML hardware acceleration capabilities present in the new SoCs.
As a complete development solution for powering the next generation of intelligent IoT devices, SensiML's Analytics Toolkit with built-in autoML software complements the MG24 and BG24 SoC families by allowing OEMs to rapidly create power-optimized smart sensing applications without the need for data science expertise. Whether it's acoustic event detection, motion analysis, gesture and keyword recognition, anomaly detection, predictive maintenance, or other time series sensor signal processing, SensiML's software tool automates the upfront development complexity and optimizes the resulting firmware to deliver accurate results with the smallest memory and power footprint possible. Learn more about SensiML's offerings for the BG24 and MG24.
Edge Impulse and Silicon Labs are delivering a powerful embedded machine learning platform for companies building AI-aware products. With the new MG24 and BG24 SoCs, embedded developers can use Edge Impulse to design automated data labeling, pre-built digital signal processing and ML blocks, live classification testing and digital twins that are less complex, more contextual, and easier to develop than ever.
"Integrating Edge Impulse with the built-in machine learning accelerator on the BG24 and MG24 enables up to 4x faster processing of machine learning algorithms with up to 6x lower power consumption while offloading the main CPU for other applications – enabling smarter and faster edge devices with long battery life and new potential workloads," said Zach Shelby, CEO, and co-founder at Edge Impulse. "By minimizing latency and traffic over the internet for time-sensitive applications, we are strengthening privacy and security, taking full advantage of MG24 and BG24 right at the edge." Read more about how you can get started developing AI/ML applications with Silicon Labs and Edge Impulse.
Get On-Board with Silicon Labs' BG24 and MG24 SoCs
Silicon Labs is laser-focused on being the pure-play IoT leader, and that means developing products that allow our clients to differentiate themselves through smart, efficient, and powerful technology. The BG24 and MG24 series represent our latest progress in achieving those goals, and there are many more success stories from our early users.
Would you like to get hands-on with the SoCs? If so, while supplies last we're shipping out free developer kits if you sign up for our accelerated learning series on the MG24. This four-part course begins on May 19th at 10am CDT and 10:00 CET. Space and supplies are limited, so sign for the MG24 Tech Lab now!