Expert panelists from Bluetooth SIG, Connectivity Standards Alliance (CSA), Wi-SUN and Z-Wave Alliance to discuss their crucial role in developing wireless standards for the evolving IoT landscape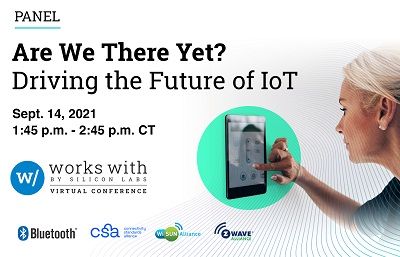 HYDERABAD, India, August 13, 2021 – Silicon Labs (NASDAQ: SLAB), a leader in secure, intelligent wireless technology for a more connected world, has added a multi-Alliance panel with IoT leaders: Bluetooth SIG, Connectivity Standards Alliance, Wi-SUN Alliance and Z-Wave Alliance to Works With 2021. The panel will be moderated by industry analyst Stuart Sikes, senior vice president at Interpret, a global consumer insights firm. The panel, "Are We There Yet? Driving the Future of IoT," will explore the benefits of wireless alliances and the crucial part they play in driving technology standards within markets as the landscape evolves at an accelerated pace.
Leaders from each Alliance will discuss their role in standard creation based on market trends, as well as the importance of developers' role in driving industry requirements. They will also share perspective on the future of the industry and how to drive innovation.
Panelists include:
Ken Kolderup, vice president of marketing, Bluetooth SIG (a global community of over 36,000 companies serving to unify, harmonize and drive innovation in the vast range of connected devices)
Michelle Mindala-Freeman, head of marketing, Connectivity Standards Alliance (formerly the Zigbee Alliance; creates, maintains and delivers open global standards for IoT)
Phil Beecher, president, Wi-SUN Alliance (brings Smart Ubiquitous Networks to service providers by enabling interoperable, multi-service and secure wireless mesh networks)
Mitchell Klein, executive director, Z-Wave Alliance (dedicated to developing and advancing Z-Wave technology as an open and internationally recognized ITU standard [G.9959] for smart home and IoT solutions)
Stuart Sikes, senior vice president at Interpret, a global consumer insights firm, will serve as moderator
"We serve in leadership roles and work closely with each of these Alliances, which gives us first-hand knowledge to help our customers develop with the latest standards to bring new products to market," said Matt Johnson, president, Silicon Labs. "As the only company aligned with key wireless connectivity protocols and standards behind smart home, smart city and IIoT solutions, our collaboration with these organizations position us as a well-rounded, impartial partner."
The panel will take place Tuesday, September 14, 2021, from 1:45 PM to 2:45 PM CDT. For more information on the session, visit https://workswith.silabs.com/agenda/session/556873. To register for this year's event, visit workswith.silabs.com.