21 Mar 2022, Oslo, Norway:
eBuyNow's Moto Watch 100 uses Nordic nRF5340 SoC to run sophisticated algorithms and wirelessly relay sensor data from wearable to smartphone app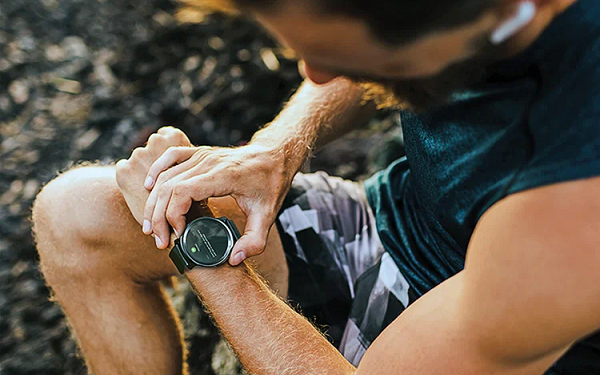 A Bluetooth® Low Energy (Bluetooth LE) smartwatch powered by Nordic Semiconductor's nRF5340 high-end multiprotocol System-on-Chip (SoC) has been launched by eBuyNow, a subsidiary of Canada-based CE Brands. The 'Moto Watch 100' is designed to help users track their health, routines, and unique biorhythms to make informed lifestyle decisions. The wearable and associated 'Moto Watch' app provide biometric insights allowing users to see the 'real time' effects of exercise and their environment.
The compact and lightweight (45.8 g with included strap) water-resistant Moto Watch 100's built-in sensors include an accelerometer, gyroscope, heart rate monitor, and SpO2 sensor for measuring blood oxygen levels to track the body's response to exercise. The solution also provides health, wellness, and lifestyle tracking features such as sleep pattern tracking, weight tracking, step counting, and 26+ different sport modes. In addition, Moto Watch 100 comes with built-in GPS for location tracking without requiring the user to carry their smartphone.
Our decision to use Nordic's nRF5340 SoC for Moto Watch 100 is thanks to its high performance and excellent power management

Sean Croft, eBuyNow
Dual-processor hardware architecture
Moto Watch 100's wide range of features and processor-intensive functionality is supervised by the nRF5340, Nordic Semiconductor's most advanced SoC that introduces a new flexible dual-processor hardware architecture. It features a high performance Arm® Cortex®-M33 application processor capable of DSP and Floating Point (FP), offering voltage and frequency scaling options and running up to 128 MHz (514 CoreMark) with dedicated 1 MB Flash and 512 KB RAM, as well as a fully programmable, ultra low power Arm Cortex-M33 network processor running at 64 MHz (244 CoreMark) with dedicated 256 KB Flash and 64 KB RAM.
Using the Bluetooth LE connectivity provided by the nRF5340 SoC, the biometric data is relayed from the wearable device to the user's smartphone, from where the iOS/Android companion app allows users to access their own health and wellness information, receive push notifications, and analyze trends over time. In addition, the app provides detailed information from activities such as the GPS route on a map.
Moto Watch 100 uses a rechargeable 355 mAh battery providing up to 14 days of full-time use from one 60-minute charge, with an 'always-on' heart rate monitor and biometric tracking. This endurance is achieved thanks in part to the ultra low power characteristics of the nRF5340 SoC.
In addition to the dual Arm Cortex-M33 processors, the nRF5340 SoC features a 2.4 GHz multiprotocol radio (supporting Bluetooth 5.3, LE Audio, Bluetooth Direction Finding, Long Range, Bluetooth mesh, Thread, Zigbee, ANT™, IEEE 802.15.4, NFC and proprietary 2.4 GHz RF protocol software) featuring 3 dBm output power and -98 dBm RX sensitivity for a link budget of 101 dBm.
The nRF Connect SDK [Software Development Kit] is used for nRF5340 software development. The nRF Connect SDK integrates the Zephyr RTOS, supports applications using Bluetooth LE, Bluetooth mesh and Thread, and includes examples, Bluetooth LE profiles and driver support for all peripherals.
High performance and power management
"Our decision to use Nordic's nRF5340 SoC for Moto Watch 100 is thanks to its high performance and excellent power management," says Sean Croft, Vice President, Product Management at eBuyNow. "We also leveraged the Nordic SDK to allow us to focus on delivering top quality product features."